Deliciously melt away stress & experience innumerable health benefits with 20 adaptogenic mushrooms + organic cacao
What's to love:
Intensely rich in antioxidants
20 adaptogenic mushrooms to bring balance and vitality
Increases sense of well-being
Helps the body adapt to stress hormones
No refined sugars or additives
More shroom' power than the others. 
Other adaptogenic hot cacao mixes on the market have just one mushroom in the mix. COCO LOVE contains 20 functional mushrooms!
Our serving size is also 30 grams (other brands that only have 6g)
This makes for a tastier, more powerful brew
Get to know your ingredients 
Experience the difference in taste & nutrition with heirloom strains of organic cacao grown in Peru, supported with spring water in untilled, nutrient-rich soils & cultivated by indigenous tribes.
Why You'll

Love

It

Immunity

Adapt better with adaptogens
Increases sense of well-being
Helps the body adapt to stress hormones

Ingredients

†cacao,†CoconutMilk,†Mesquite,†Maca Root,†Carob,†Monk Fruit,†BoKU Super20 Shroom:(Agarikon, Artist'sConk, Blazei, Chaga, Cordyceps,Enoki, Hiratáke, Honey Mushroom,Lion's Mane, Maitáke, Mesima,Poria, Reishi, Scarlet Cordyceps,Shiitáke, Suehirotáke, Tremella,True Tinder Polypore, Turkey Tail,Zhu Ling. † = Organic

How to

Enjoy

Simply add hot water or your favorite plant-based milk to create a guilt-free chocolatey elixir.

FAQ

Does Coco Love contain caffeine?

All chocolate comes from the ancient superfood Cacao, which can contain trace amounts of caffeine, depending on a number of different factors. Most of the energy you might feel from Coco Love will come from a different constituent known as theobromine, which is a distant relative of caffeine but much different. Any amount of caffeine in Coco Love will be much lower than in coffee.

How much sugar does it have?

BōKU Coco Love is 100% guilt-free, vegan, 100% organic and contains only 9 grams of sugar per serving.

How do I take it ?

Coco Love is delicious simply shaken or blended in hot pure water or your favorite plant-based milk! A scoop or two will do, but everybody has their own unique preference as to how rich they like it. Load up as much as you want with this guilt-free hot cocoa!

What is CoCo Love?

Coco Love is a vegan alternative to processed, artificial, fattening and sugary hot cocoa. It is intensely rich in antioxidants and contains our blend of 20 adaptogenic mushrooms that may offer innumerable health benefits. Great for increasing your sense of happiness and well-being while helping the body adapt to stress. It is free of refined sugars or additives of any kind. Coco Love is certified organic, Kosher and DELICIOUS!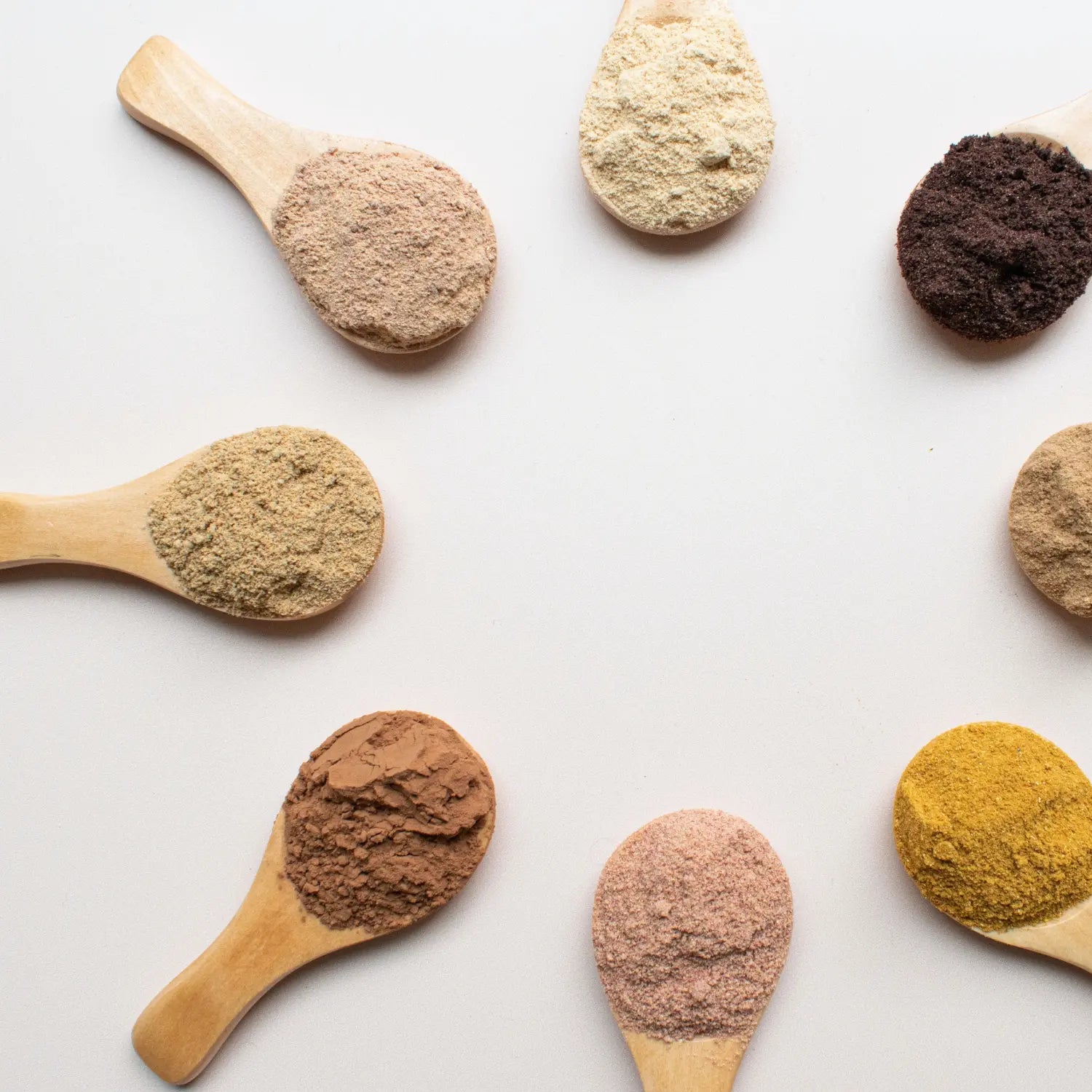 Pow(d)er To The People
Boku powders are created with the most pristine superfoods on earth to ignite transformation & maintain results.
We believe in knowing your farmers, connecting with your food, and honoring plants as medicine. Learn more about each organic, sustainably farmed ingredient here.

Plan(e)t Based Food
Do it for you. Do it for the community. Do it for the planet.
It's estimated that about 60% of the world's waste is from discarded food.
By choosing Boku, you are consuming the "future of food" & directly reducing the amount of food waste on this planet.
Choco - Bliss - just add a teaspoon of sugar :)
With this product, Boku joins another plant based company (Leafside) on my "hero" list.
Merci Beaucoup Boku!
Delicious and nutrious
I love this in my coffee. It makes my day start off great! And the healthy properties of the mushroom blend is the "icing on the cake " Thank you Boku for improving my health & wellness.
Hi Rachel! Oh my gosh now I will have to try this in my coffee!! That sounds delicious; not sure how I have never thought of that! :) -Ryann @ Boku
Coco Love- Vegan Hot Chocolate
So good it is now a ritual!
I love this so much!! After getting it with the immune package, I eventually came to drink it every night. The first cup tasted... different, though delicious. Prior to Boku Coco Love, I was drinking organic cocoa but this was another level of wellness. By the second cup, my palatte had adjusted to the superiority of the ingredients and I grew to CRAVE it. My body knew it was getting what it needed. I'm down to 2 scoops and just ordered more. (I made myself a non-Boku cocoa recently. It tasted artificial and superficial.) So, yes, this product is now ritual for me. I enjoy it best with a dash of sea salt and an ounce or so of plant-based creamer. These touches bring out the flavor and creaminess for me. THANK YOU, BOKU FOR SUCH A BRILLIANTLY NOURISHING TREAT!!
Perfect for the holidays :)
Its a great healthy warm beverage for the holidays :)! No guilt and soooo good!