BoKU® Superfood
Super Shrooms
Create harmony for your mind, body, and spirit.
Boost and fuel underperforming, sluggish systems of the body while down-regulating hyperactive ones with this wild-crafted organic adaptogenic blend. 
Not All Mushroom Powder Is Created Equal
We use the fruiting bodies of fungi, which contain not only vitamins and minerals but also polysaccharides, beta-glucans, secondary metabolites, and different classes of antioxidants, including polyphenols and carotenoids.

We work closely with our farmers to put together a special proprietary blend that undergos a steam extraction process that makes the nutrients more bioavailable than other brands on the market. 
Why You'll

Love

It

Immunity
Stress
Cognition
Used medicinally for thousands of years by traditional cultures all over the world

Ingredients

†Agarikon,†Artist'sConk,†Blazei,†Chaga, †Enoki,†Hiratáke,†Honey Mushroom,†Lion's Mane,†Maitáke,†Mesima,†Poria,†Reishi,†Scarlet Cordyceps,†Shiitáke,†Suehirotáke,†Tremella,†True Tinder Polypore,†Turkey Tail,†Zhu Ling.†= Organic

How to

Enjoy

Boost your daily smoothies along with our award-winning Superfood and Protein powders, add to savory food dishes, or use a scoop to steep and make tea in 12 ounces of hot water, or add to coffee.

FAQ

Will they make me high?

No! Boku Super Shrooms may help elevate your mood but they are considered non-psychoactive, meaning they will not make you high.

What's a specialty mushroom?

Many specialty mushrooms have a history of use dating back thousands of years and are some of the most highly respected ingredients of herbal preparations. In fact, in Traditional Chinese Medicine, reishi is ranked as the most useful of all herbs for its numerous benefits, ranked even higher than ginseng! The mushrooms in BōKU® Super Shrooms™ have numerous properties that help to promote well being by delivering "super-adaptors," prebiotics, and antioxidants. Although we cannot publish why exactly we love them, there have been many published studies on the benefits of consuming functional super mushrooms. We encourage you to do a little internet research of your own and watch the film; "Fantastic Fungi" to learn about their amazing uses and history!

What mushrooms are found in Super Shrooms™ blend?

Super Shrooms™ is a broad spectrum blend that contains:
Agarikon, Artist's Conk, Blazei, Chaga, Enoki, Hiratake, Honey Mushroom, Lion's Mane, Maitake, Mesima, Poria, Reishi, Scarlet Cordyceps, Shiitake, Suehirotake, Tremella, True Tinder Polypore, Turkey Tail, Zhu Ling


Where do you gather the original spores?

Wild Specimens

What are Super Shrooms grown in?

Our mushrooms are grown in organic brown rice.

What exactly are Super Shrooms and what makes them so super?

Super Shrooms™ is a doctor-formulated blend of 20 ancient, specialty mushrooms. Each individual mushroom has specific beneficial characteristics that may be synergistically complimented when combined with others.

How do I take Boku Super Shrooms?

Use them as a boost added to any other Boku powder. You can also make hot tea, soup or mix them with other food. They are delicious and versatile. Have fun but get them in your body!

What is the consistency of Super Shrooms?

Super Shrooms™ have the consistency of a fine powder; perfect for sprinkling, dashing or brewing.

Are Super Shrooms™ Organic like all other Boku products?

Absolutely! They are certified organic as well as kosher. Our mushrooms are grown organically by a United States farmer who keeps it clean – NO excipients, granulating agents, fillers, preservatives, or sulfiting agents.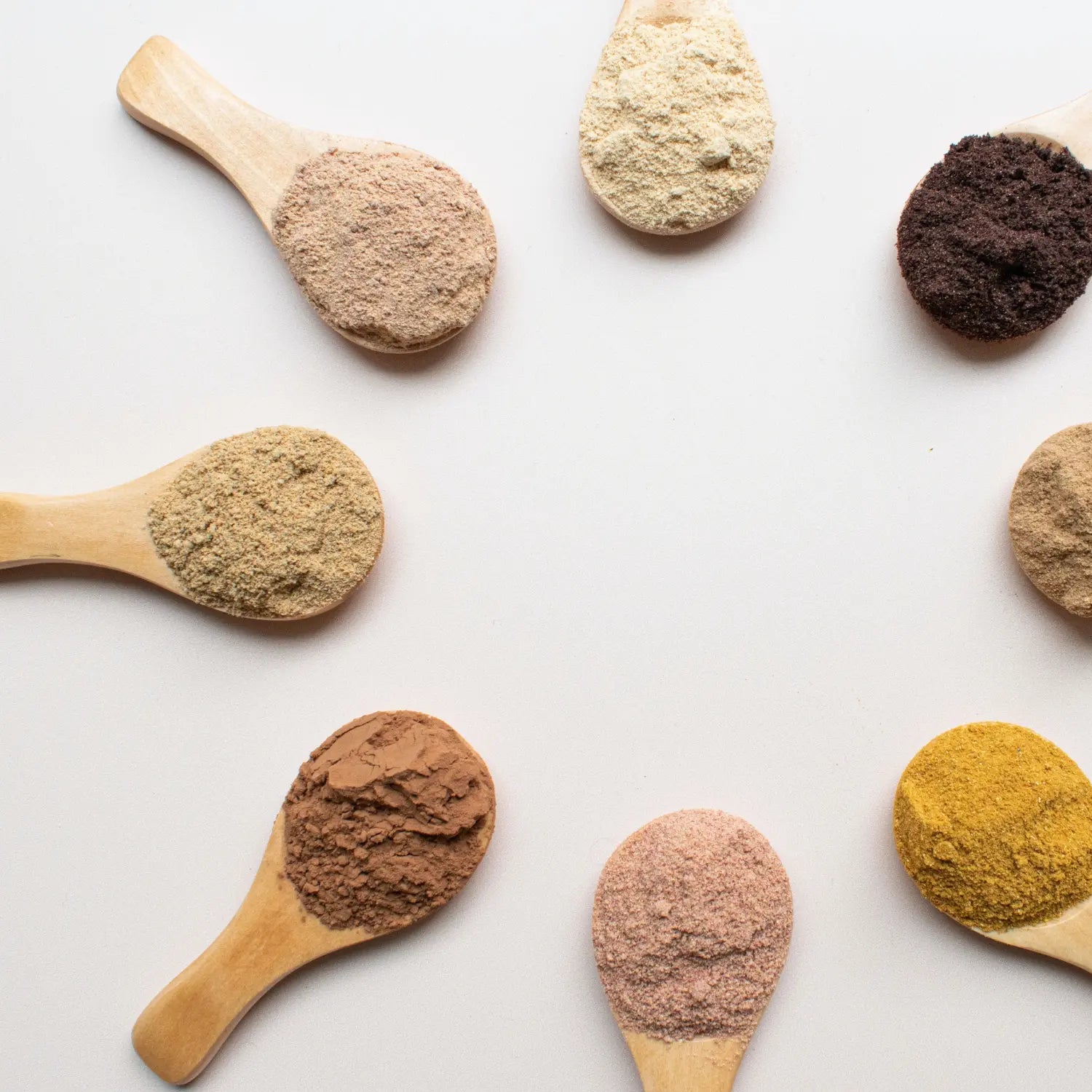 Pow(d)er To The People
Boku powders are created with the most pristine superfoods on earth to ignite transformation & maintain results.
We believe in knowing your farmers, connecting with your food, and honoring plants as medicine. Learn more about each organic, sustainably farmed ingredient here.

Plan(e)t Based Food
Do it for you. Do it for the community. Do it for the planet.
It's estimated that about 60% of the world's waste is from discarded food.
By choosing Boku, you are consuming the "future of food" & directly reducing the amount of food waste on this planet.
Excellent
Love all the products- Have Refered at least ten people to the company.
That says it all!
Needs flavor
I appreciate that it has 20 mushrooms blended, but it really would be better with some type of flavor. Other than that it's a good product. Dissolves well in water and has lots of health benefits.
Please, No More Plastic Scoops.
I love the product. If you would please NOT include plastic scoops with each order, you would be doing us all a service.
Enough PLASTIC! If a customer would like a plastic scoop, let them simply request one.
Very easy
a VERY OOD WAY TO BE MORE HEALTHY AND EAT MORE MUSHROOMS
aMAZING PRODUCT
Shrooms
I have been taking this product since before the pandemic began. On the bottom of the canister it says that it fuels immunity. I believe it because since taking the product, I haven't gotten sick.