BoKU® Superfood
Superfood Umami Seasoning
Transform any meal into a superfood infused meal
100% vegan, nutritious, savory and flavorful topping to add to all your favorite foods.

Great on pasta, rice, popcorn, salads, avocado toast, steamed veggies and more! Umami Super Spice adds delicious depth and a healthy zing to foods. Boku Umami Seasoning delivers B vitamins, protein, minerals and much, much more!

With a magical blend of organic nutritional yeast, toasted white and black sesame seeds, onion, garlic, coriander, cayenne, black pepper and pink Himalayan sea salt, Boku Umami Super Spice Seasoning is going to light up your flavor palate and add robust new life to your favorite foods.

Kids love it, parents love it, health food enthusiasts adore it and people tasting it for the first time can't get enough of it!

Why You'll

Love

It

Sprinkle on any meal to transform it into a superfood infused meal. Great on popcorn, veggies, pasta, salads, and so much more!

Ingredients

BōKU®Umami SuperfoodSpiceBlend:†HempHearts,†Black Toasted SesameSeeds,†NutritionalYeast,†White Toasted SesameSeeds,HimalayanSea Salt,†Garlic Powder,†Coriander Powder,†Black Pepper,†OnionPowder,†Turmeric Root Powder,†BōKU®Super20 Shrooms:(†Agarikon,†Artist's Conk,†Blazei,†Chaga, †Cordyceps, †Enoki, †Hiratáke, †HoneyMushroom,†Lion'sMane,†Maitáke,†Mesima,†Poria,†Reishi,†ScarletCordyceps,†Shiitáke,Suehirotáke,†Tremella,†True Tinder Polypore,†Turkey Tail,†ZhuLing).† = Organic

How to

Enjoy

Add one scoop of Boku Superfood to your favorite non-dairy liquid – it's that easy. Shake it up, drink it down, and experience how good it feels to be fueled by nature's gifts to mankind.

FAQ

Is it true I can get protein from this?

Just one tablespoon of HOT MAMI umami seasoning contains 3 grams of protein. (And if you're like us, you won't be able to have just one tablespoon.)

What spices make this seasoning hot?

Organic Ancho Chili Powder, Organic Cayenne Pepper Powder & Organic Habanero Powder

What are some fun facts about Umami?

Did you know…
Now that the umami flavor has gained some popularity, food and beverage companies everywhere are utilizing it in all kinds of interesting ways. There's now umami beer, umami wine, and seaweed infused umami ice cream. It's also interesting to note that intentional cultivation of umami taste dates back to Ancient Rome, where they created an umami-rich fermented fish sauce called garu.


Where does nutritional yeast come from?

The answer will surprise you!
Nutritional yeast is harvested as a fungus that grows on molasses or other growth mediums that come from sucrose.


Is this product kid-friendly?

You bet!
It is 100% kid-friendly, and a lot of parents find it super useful to motivate kids to eat their greens. Sprinkle some on your kiddo's veggies and they'll probably ask you for more!


What other ingredients does Boku add to the Umami product?

What are the ingredients?
We enhance both the nutritional value and taste of our Umami with hemp seeds, sesame seeds, garlic powder, onion powder, coriander, turmeric, black pepper, cayenne pepper, himalayan pink salt and of course Boku's amazing blend of 20 potent specialty mushrooms!


What other ingredients does Boku add to the Umami product?

It's unlike brewers yeast! Unlike brewer's yeast, nutritional yeast goes through a heating and drying process that deactivates it, so it's not actually alive. It does not have the same fermented flavor as active yeasts, but instead is mildly sweet and savory all at once.

How should I use Umami Products?

Versatility, versatility!
Put on any food that you want to add a savory and robust snap to. Use Umami seasoning to replace salt and pepper, Parmesan cheese or any other seasonal topping. It'll become your new favorite flavor, with tons of health benefits to boot. Since nutritional yeast is so versatile, please enjoy wide creative expression with its uses.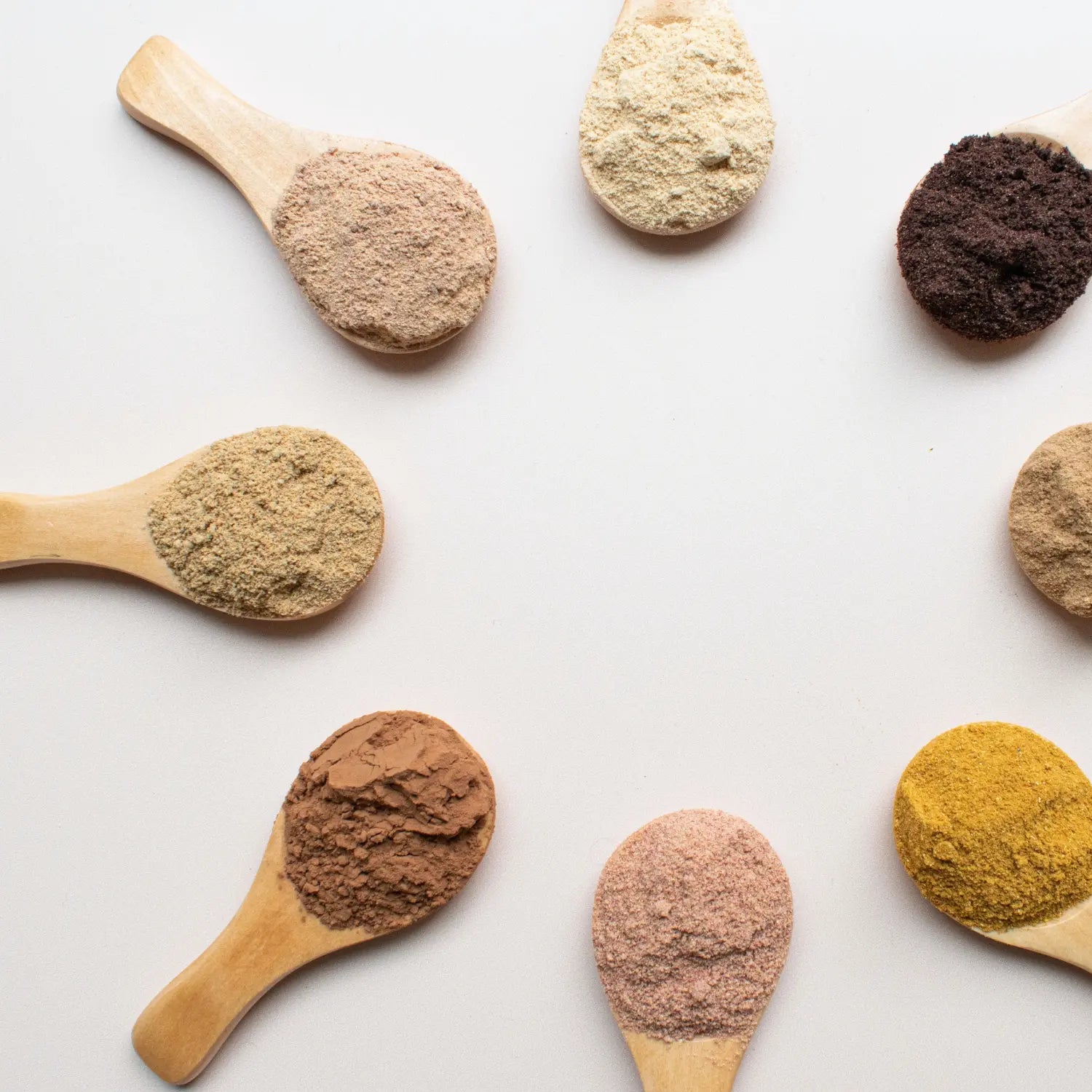 Pow(d)er To The People
Boku powders are created with the most pristine superfoods on earth to ignite transformation & maintain results.
We believe in knowing your farmers, connecting with your food, and honoring plants as medicine. Learn more about each organic, sustainably farmed ingredient here.

Plan(e)t Based Food
Do it for you. Do it for the community. Do it for the planet.
It's estimated that about 60% of the world's waste is from discarded food.
By choosing Boku, you are consuming the "future of food" & directly reducing the amount of food waste on this planet.
learn more
From the gods.
I put Boku Umami Seasoning on everything. Takes my dishes to the next level.
My Preferred Salad Seasoning
Not only are the ingredients proven to be healthy, but the taste is wonderful -savory, without being overwhelming.
Delicious add to any food
Perfect for eggs, popcorn, salads… really any savory dish. Who doesn't love a healthy flavor enhancer?
Super Seasoning
Love putting this Umami Seasoning in homemade soups, stir-fry, grilling meats and more! On my second bottle! Love it❣
More Please!
The only thing I don't love about this product is that I can't buy it in 5lb bulk size! Great product, fantastic taste, feel good about putting healthy seasoning on EVERYTHING!!! Seriously, probably even good on chocolate.