BoKU® Superfood
Boku Super-C-Biotic
زيادة مستويات فيتامين C + لبناء أمعاء صحية ولذيذة
ماذا تحب
أكثر من ألف (1060٪) من الكمية الغذائية الموصى بها (RDA) من الغذاء الكامل "كامل الطيف" فيتامين ج!
صحة القناة الهضمية PRE و PRO-biotics
5 مليار CFUs من البروبيوتيك الخالية من منتجات الألبان لكل وجبة!
0 سكر مضاف
ركلة منعشة ستحبها ذوقك!
يدعم إنتاج الكولاجين والمناعة وصحة الأمعاء
الفرق بين Super-C-Biotic ومكملات فيتامين ج
تناول مكمل فيتامين ج؟ إذا كان الأمر كذلك ، فأنت حرفياً ترمي أموالك في المرحاض. تحتوي معظم مكملات فيتامين ج على فيتامين ج الاصطناعي (حمض الأسكوربيك). تكمن المشكلة في مركب C في أن مستقبلات الجسم لا تتعرف على مركب C كما يفعل حمض الأسكوربيك الطبيعي ، مما يؤدي إلى ضعف الامتصاص. ومع ذلك ، فإن مستقبلاتك تتعرف على حمض الأسكوربيك الذي يحتوي على طعام كامل والمغذيات النباتية التي لا تعد ولا تحصى الموجودة داخلها.

بمعنى آخر ، C الاصطناعية هي شكل معزول بينما Super-C-Biotic هو فيتامين C الحقيقي الذي يتعرف عليه جسمك ويزدهر!

إليكم سرًا صغيرًا آخر قذرًا حول فيتامين ج الاصطناعي (حمض الأسكوربيك): معظمه مشتق من الذرة المعدلة وراثيًا ومعالجته بمواد كيميائية صناعية. مع Boku Super C Biotic ، ستتمكن من الحصول على جميع الفوائد دون الآثار الجانبية الضارة لفيتامين C التجاري!
لماذا

ستحبها

Boost your daily smoothies along with our award-winning Superfood and Protein powders, add to savory food dishes, or use a scoop to steep and make tea in 12 ounces of hot water, or add to coffee.

مكونات

Organic Acerola Cherry Juice,Organic Goldenberry, Bacilluscoagulans (true non-dairy probiotic)

كيف

تستمتع

Mix in cold or warm water for a lip-smacking refreshing lift! You can also blend with any of our other superfood powders. Combine with non-dairy milk for an amazing creamsicle beverage.

التعليمات

What's the difference between Super C-Biotic and Super Berries?

Super C is two fruits blended specifically for their extraordinarily high vitamin C and prebiotic benefits. Sweet Berries is a perfectly sweetened blend of 10 berries focusing on antioxidant and broad-spectrum phytonutrient value.


Can Taking 1060% Daily Value Vitamin C Cause Side Effects?

According to the Mayo Clinic, high doses of dietary vitamin C are unlikely to be harmful. According to Oregon State's Linus Pauling Institute, "There is no scientific evidence that large amounts of vitamin C (up to 10 grams per day in adults) exert any adverse or toxic effects. Super C Biotic supplies 951 mg of Vitamin C per serving, which is slightly less than 1 gram." Linus Pauling was a pioneering researcher of vitamin C who suggested an optimum daily intake of vitamin C may be about 2,000 milligrams per day, and that everyone should get at least 200 to 250 mg/day.

Why do I need Vitamin C?

Because vitamin C is not fat-soluble, you need to consume it every day.
Vitamin C is perhaps best known for its role as an antioxidant that helps support the immune system, as well as other critical roles in the body, including its nutritional cofactor role in collagen production, and gene expression, increases iron absorption; supports kidney, eye, and the nerves in people with blood sugar concerns; supports the cardiovascular system; supports normal cholesterol levels, and may encourage a normal inflammatory response in the body.


How often should I take Super C-Biotic?

1-2x per day! (2x on very stressful days)
To support optimal health, take Super C Biotic 1-2 times per day. Stress can deplete the body of important vitamins and minerals.
*Pro Tip: supplement with BoKU MINERALS, a daily dose of electrolytes, and 56 trace minerals.

What's the difference between natural and synthetic vitamin C?

Super C Biotic contains food-derived Vitamin C
This is superior to synthetic vitamin C, contained in most supplements. Food-derived vitamin C is more efficiently absorbed by the body and contains a myriad of phytochemicals that synthetic vitamin C lacks.


What's the benefit of adding probiotics?

Everything added to Boku products is functional!
There are over 1,000 species of bacteria in your gut, and having enough friendly bacteria is critical for optimal health.. Bacillus coagulans is a natural, dairy-free probiotic that forms spores. Why is this important? Spore-forming probiotic strains are better able to survive the very acidic environment of the stomach and colonize in the gastrointestinal tract.


What does it taste like?

Natural fruity flavor
Remember drinking Tang when you were a kid? With a combination of acerola cherry and Incan berries, (also called goldenberry or gooseberry) it has a similar refreshing, orange-ish taste, only Super C Biotic is 100% natural.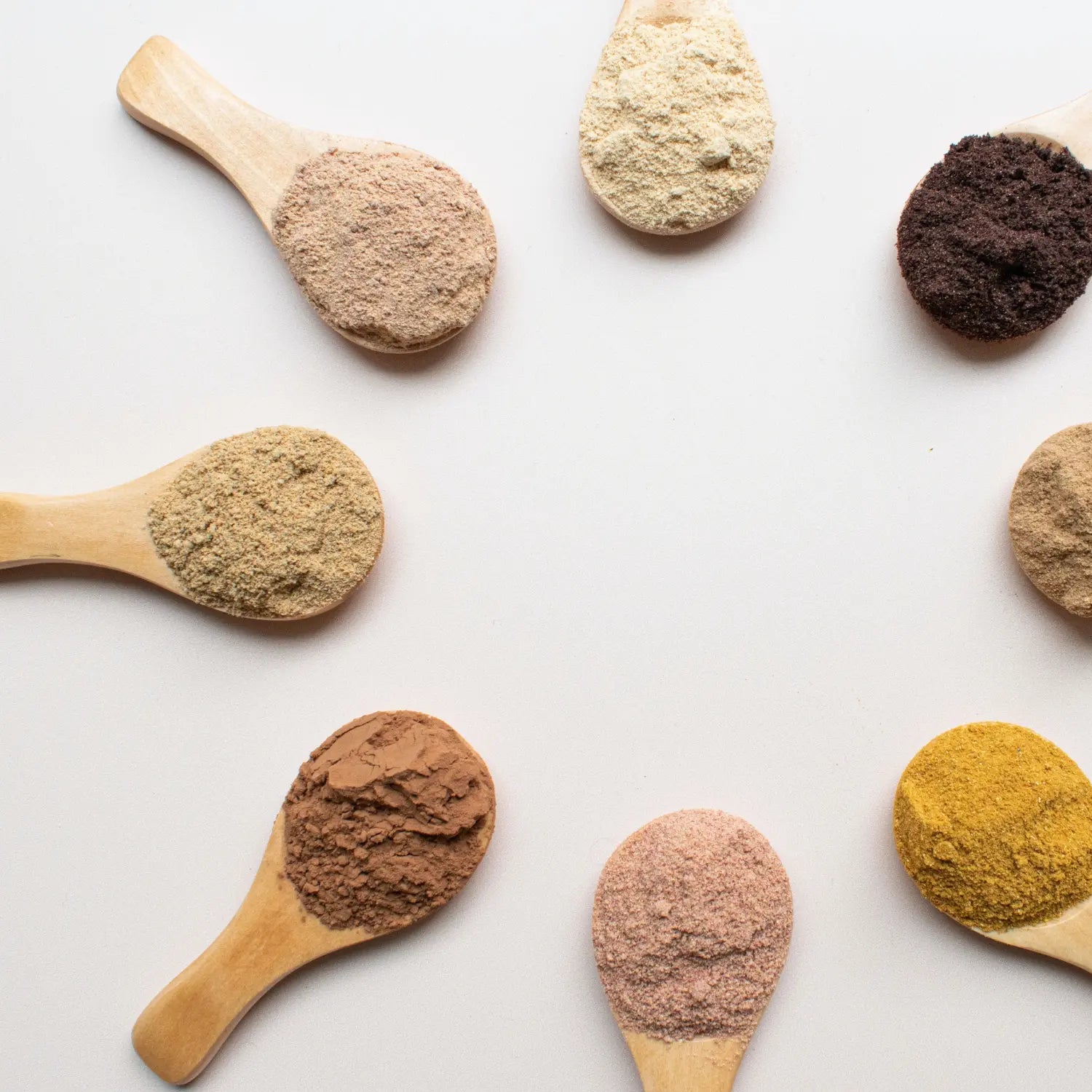 الأسرى (د) إيه للشعب
تُصنع مساحيق بوكو من أكثر الأطعمة نقاوةً على وجه الأرض لتحفيز التحول والحفاظ على النتائج. p>
نحن نؤمن بمعرفة المزارعين لديك والتواصل مع طعامك وتكريم النباتات كدواء. تعرف على المزيد حول كل مكون عضوي مزروع بشكل مستدام هنا. strong>

خطة (ه) t الغذاء القائم
افعلها من أجلك. افعلها من أجل المجتمع. افعل ذلك من أجل الكوكب.
تشير التقديرات إلى أن حوالي 60٪ من نفايات العالم ناتجة عن التخلص من الطعام.
باختيارك بوكو ، فأنت تستهلك "مستقبل الطعام" وتقلل بشكل مباشر من كمية هدر الطعام على هذا الكوكب.
Excellent product. I will recommend this to people
My favorite Boku product
I absolutely love this product! It gives me a great energy boost whenever I take it. I add it to my morning shake and also just add it to cold water later in the day for a special treat. It tastes delicious both ways. I look forward to drinking my vitamin C every day!!
Video Review
https://foodsthathealyou.com/shopping-vitamin-c-3-things-to-look-for/
LOVE this WHOLE FOOD Vit C
I'm always looking for NON synthetic vitamins. This one is the bomb. 1000% in just a tsp!! The taste is tiny bit sour? But fine. I dissolve it in my water.
Friendly Gut digestion Orange Beverage
9-9-2020
After a few months being faced with GI issues and feeling like again the medical model and healthcare system is incomplete I went and search products for gut health that would aid me to quicker healing and bring promise that I will recover swiftly.
Boku was the answer. We love this trusted brand and are so thankful after five years the integrity of Boku has not withered. Thank you for this great product that taste good and provides long lasting energy and probiotics that will make a difference.
Thank you Boku Family
-Christopher Betancur
Marine Veteran
Thank you so much Christopher! Happy to hear how much you love the product!! :)