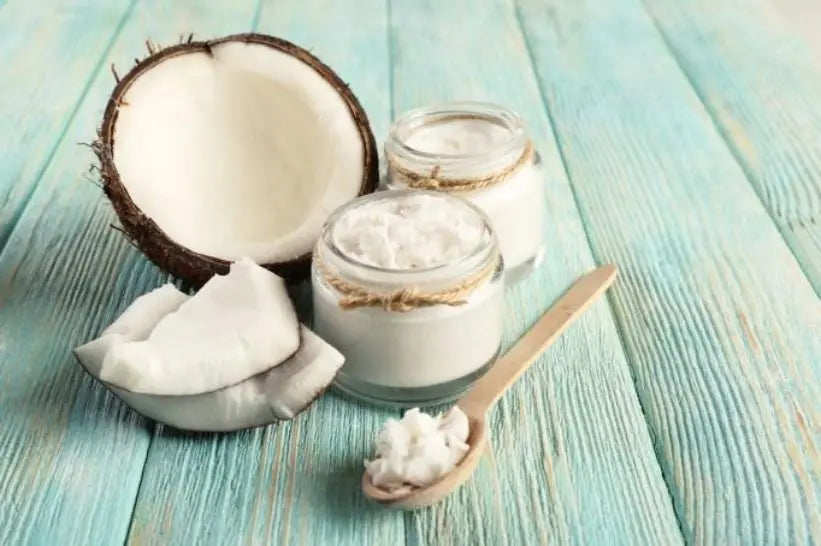 Coconut oil is amazing for your body… inside and out! Many people first turned to coconut oil as a healthier cooking alternative to heavy fats and greases. But, more recently, beauty experts are using coconut oil as a treatment for hair, skin, and more! Coconut oil has quickly become a hot trend in the beauty world, and here is why:
Hair Care
Dry, frizzy hair can be difficult to manage – no matter how hard you try to stick it down with chemically infused sprays and creams, nothing ever seems to work. If anything, you are just left with a crunchy, greasy mess. But don't fret – coconut oil can solve this beauty challenge!
Because of its chemical structure, coconut oil can actually penetrate the cortex (the inner part of hair) which can help improve your hair's strength and flexibility.
You can apply coconut oil to your hair in a couple different ways. One method is to apply coconut oil to clean, wet hair, and let it sit for 15-20 minutes before rinsing the excess oil out. You can also rub a small amount of coconut oil in the palm of your hands, and then run it through your dry hair to smooth your strands.
  Skin Care
Almost all of us have suffered from dry or flakey skin. The most common solution is to apply heavy moisturizers that can often clog our pores, resulting in unwanted acne. Luckily, coconut oil acts as milder and more effective alternative!
Coconut oil contains fatty acids which help to lock in moisture. In addition, coconut oil is non-comedogenic, which means that it will not clog your pores.
Warm up a pea-sized amount of coconut oil between your hands and smooth onto fresh, clean skin for best results!
Oral Hygiene
Get ready for this one! Coconut oil can be used for an age-old oral hygiene technique called "Oil Pulling". This technique consists of using coconut oil as a natural mouthwash and is thought to draw out bacteria and impurities in the gums and mouth.
To try this, insert a warm, liquid spoonful of coconut oil into your mouth, and swish the oil around for 20 minutes. After the 20 minutes is up, spit the oil out. Rinse your mouth with water, and brush your teeth. Notice how fresh and clean your mouth feels!
Stay tuned for our BōKU® Tooth Powder and Gel, coming soon! These products are designed to harness the cleaning power of natural ingredients, and will be available in the coming months. If you like this coconut oil tip, you will love our new line!
Makeup Remover
When makeup removers leave residue and traces of makeup behind, it is a recipe for breakouts and irritated skin. Que coconut oil!
Not only is coconut oil natural and gentle on skin, but it also "breaks up water-resistant substances used in eye shadow and mascara, releasing them from the skin and lashes," says cosmetic chemist Joseph Cincotta.
Simply scoop a pea-sized amount out of the jar, warm it between your fingers, and apply it all over your face. Massage into your skin in a circular motion, then use a warm, wet washcloth to remove the excess oil. Splash warm water, and reveal fresh, moisturized skin!
Body Balm
Suffering from dry, chapped lips, cuticles, knees or elbows? Slather on the coconut oil! Not only does coconut oil moisturize the skin… it heals it too!
Because coconut oil contains three important fatty acids, it can penetrate deep into the layers of the skin. Slather coconut oil regularly to keep your dryest skin soft and smooth!