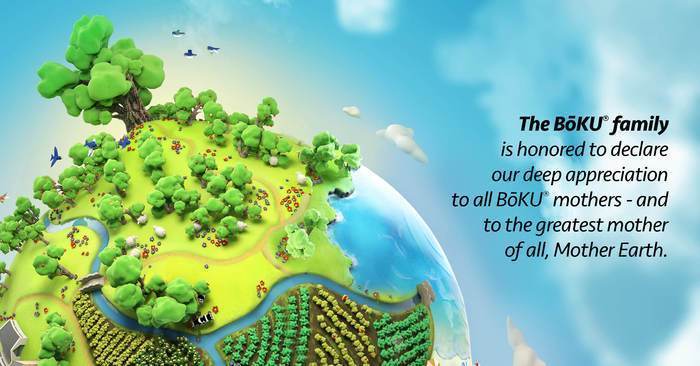 The BōKU family is honored to declare our deep appreciation to all BoKU mothers - and to the greatest mother of all, Mother Earth.
Here in Ojai, we are witnessing an evermore increasing commitment from mothers everywhere to ensure that their children are growing into their greatest capacity - mentally, emotionally, spiritually and physically. It warms our hearts to see that Ojai mothers are giving their whole hearts and their deep attention to the wellbeing of their offspring here in this incredible little town where children truly are the future. And Ojai provides the perfect setting for the nurturing of all children that are blessed enough to walk on its lush and sacred lands.
The native Chumash residents of Ojai gave this glorious valley its name to mean "moon," proclaiming that Ojai is the "Valley of the Moon," or a "nest" for the moon. The moon is thought in many traditions to have a powerful divine feminine energy - perhaps this is why so many Ojaians and visitors alike remark at the incredibly healing, nurturing qualities of simply being in its energy. And, if we think about the mother figure as a creative force (again, as many ancient traditions do), Ojai delivers. It is a massively creative hub where children can explore, express, and thrive their way into their highest potential.
The foundation of a child's  capacity largely comes from their nourishment - and providing the proper nutrition is our Mother's Day gift to both families and to Mother Earth. We understand the challenge of the morning (and evening) hustle to get our kids fed with all of the proper nutrients, so we have formulated a superfood powder that contains a total of 55 superfoods - more than enough vitamins and minerals to sustain your family. Simply toss a banana and some plant-based milk into the blender, with one scoop of powder, and voila! You're ready to go. You can even just shake it up with some water and get your nutrients that way.
And, if you want to cuddle up and enjoy a delicious treat with your kids on Mother's Day without overloading your bodies with junk food, we have an organic, gourmet, healthy hot chocolate that's packed with organic cacao and 20 mood-boosting medicinal mushrooms (reishi, chaga, etc.). It's rich in antioxidants and in chocolatey-ness. Yummm.
As our gift to Mama Earth, we purchase from the most pristine locations on earth and make every effort to work only with suppliers who practice biodynamic/regenerative farming techniques. We shake the hands that farm the land and have forged quality relationships with these suppliers all over the world. That said, we don't just take their word for it. All BōKU ingredients are tested extensively by third party labs to ensure purity. And of course, we always keep it organic, vegan and non-GMO.
From the bottom of our hearts, the BoKU family wishes you and our planet tons of love and nurturing this Mother's Day full of tasty treats, hugs and kisses.