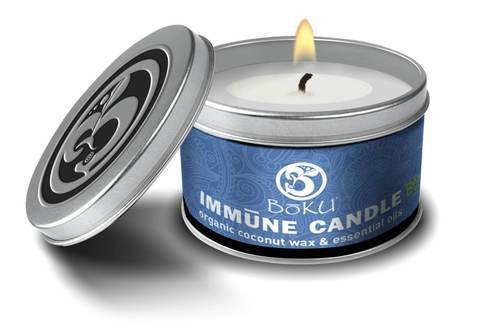 Father-son duo pay homage to 15th century's "Four Thieves" with product launch on November 29
VENTURA, Calif., Nov. 27, 2013 /PRNewswire/ — Renowned Super Food company BōKU® International is announcing their launch of the Immune Candle. Conceived by the founder's son, Reno Rolle Jr., the Immune Candle combines organic coconut wax with a proprietary blend of potent organic essential oils in a revolutionary approach to wellness.
According to the Thieves Oil legend, during the Plague epidemic of the 15th century, a band of burglars swept the countryside and robbed the dead without becoming infected. Finally, four thieves were captured in Marseilles, France and offered up their secret to immunity in exchange for leniency.  It was disclosed that these thieves were perfumers and spice traders who had rubbed themselves and doused their clothing with a concoction of functional essential oils, including eucalyptus, rosemary, peppermint, lemon and others.
"The idea for the Immune Candle was a gift," said Reno Rolle Jr. "I was fighting a cold last winter and sneezing all over the house.  I could see everyone cringe and run for cover.  The idea of a candle fortified with essential oils, and the name Immune Candle, just popped into my head, along with the thought that this could really make a positive difference." Rolle immediately teamed up with his father, Reno Sr., an award-winning inventor and veteran product developer.  The two began an intense year-long process of vetting the idea and perfecting the product with industry leading experts.
Lynn Rolle, BōKU® CEO, commented, "The Immune Candle is absolutely amazing.  It casts a beautiful, gentle glow and quickly fills the air with the most soothing, luxurious sense of wellness you've ever experienced."
Marking BōKU®'s entree into lifestyle products, the Immune Candle will be available for sale on the company's website beginning Friday, November 29th.  The company wants to be perfectly clear that the Immune Candle is designed strictly for aromatherapy and not intended for diagnosis, cure, mitigation, treatment, or prevention of disease.
Originally Posted on November 28, 2013
The post Secret Medieval Formula Inspires New "Immune Candle" from BōKU® International appeared first on BōKU® Superfood.