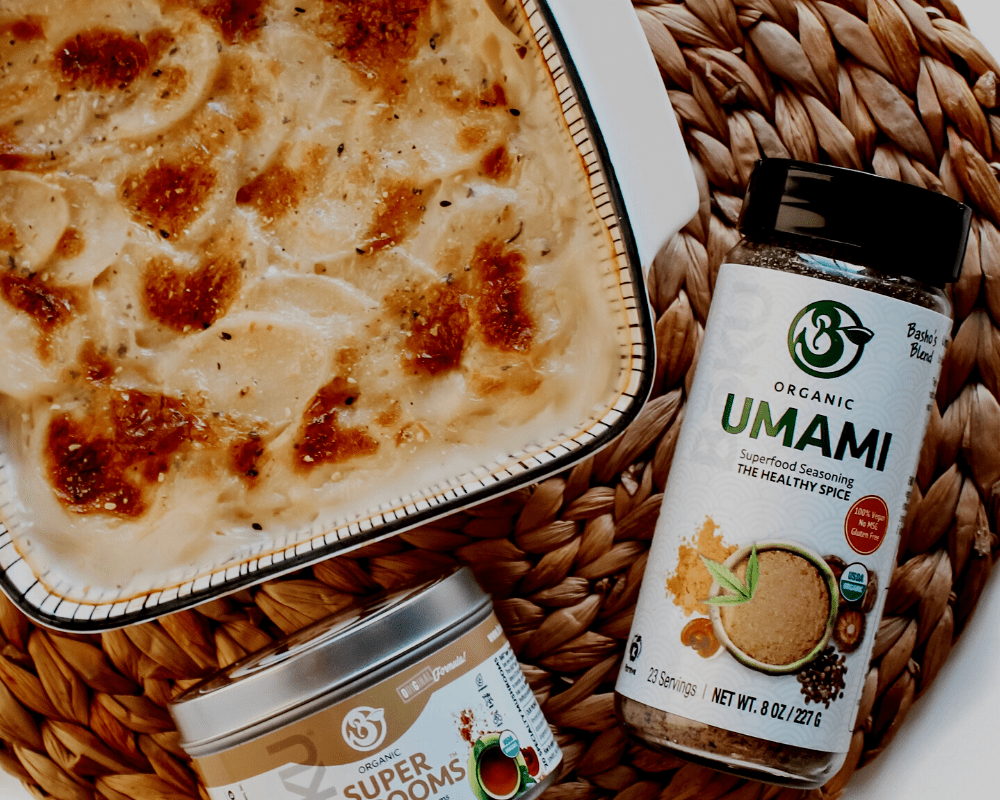 Creamy, garlicky, comfort food heaven is to be found in our Best Vegan Scalloped Potatoes recipe. Perfect for Thanksgiving or to make any dinner night extra special! Also check out our
Superfood Sourdough Stuffing
!
Ingredients: 
-3 pounds potatoes, sliced
-1 cup raw cashews
-2 ½ cups unsweetened almond milk or vegetable broth (or combo)
-¼ cup nutritional yeast
-2 or 3 garlic cloves, finely chopped 
-1 tsp onion powder
-1 tsp salt
-½ tsp pepper
-juice of ½ lemon 
-shredded vegan cheese for topping 
Directions: 
1) Preheat oven to 375 degrees. Peel the potatoes. Slice the potatoes into ⅛ inch slices using a mandolin, or manually with a knife. 
2) To make the cream sauce, add the cashews, milk and/or veg broth, nutritional yeast, garlic, onion powder, salt, pepper, Boku Umami, Boku Super Shrooms, and lemon juice to a high-speed blender and blend until creamy, about 1 minute. Taste for flavor, adding more of anything you'd like. 
3) In a 9 x 13 baking dish, pour a thin layer of sauce on the bottom of the dish, layer ½ of the potatoes, top with ½ cream sauce, and repeat. Top with a sprinkle of more Boku Umami and shredded vegan cheese. 
4) Cover with foil and bake for 40 minutes. Remove cover and bake another 30 minutes, potatoes should be fork-tender. Serve topped with optional chopped chives, parsley, fresh thyme, and/or freshly ground pepper. Enjoy!