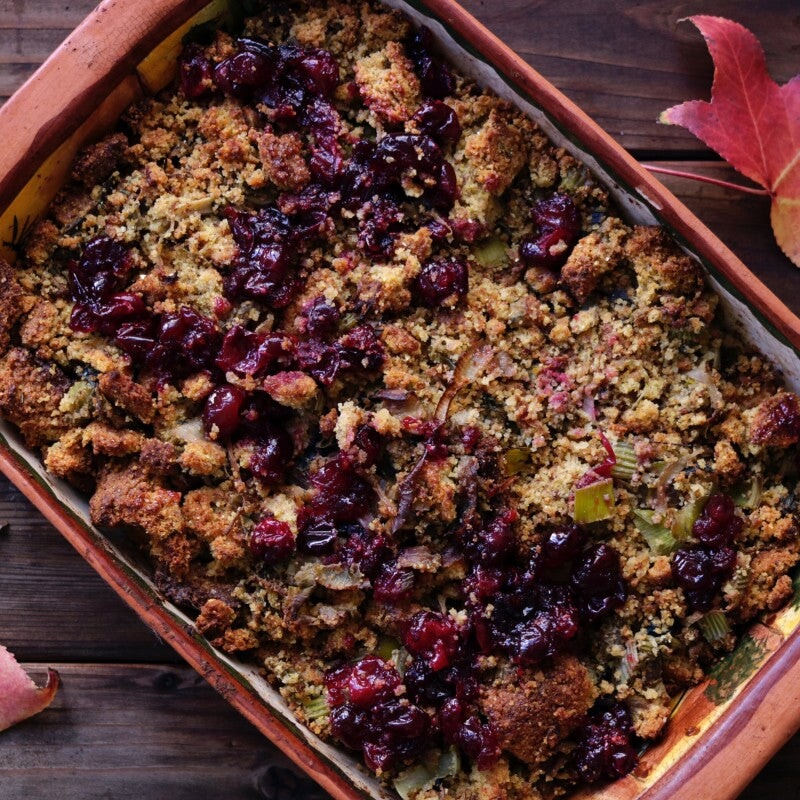 Our Vegan Sourdough Stuffing is full of classic flavor and superfood nutrition. You will use this recipe for years to come and no one will ever guess it's vegan! Also check out our
Best Vegan Scalloped Potatoes
!
Ingredients:
-1 pound sourdough bread, cut into 1-inch cubes
-¼ cup vegan butter, divided
-1 large onion, diced
-1 cup celery, diced
-4 cloves garlic, minced
-4 cups mushrooms, sliced
-2 tsp dried thyme
-2 tsp ground sage
-1 tsp dried rosemary
-½ cup fresh parsley, chopped
-1 tsp sea salt, more to taste
-Fresh ground pepper, to taste
-2 or 3 cups vegetable broth
- 2 cups dried cranberries - optional
Directions:
1) Preheat oven to 350 degrees. Grease a 3-Quart casserole dish and set aside.
2) Spread bread cubes onto a baking tray and place in oven until they are dry and slightly toasted. About 15-20 minutes. Place the toasted cubes in a large mixing bowl and set aside.
3) Increase heat to 375 degrees. In a large pan, add 2 tbsp of butter over medium heat. Add onion, celery, and sauté until softened, about 5-6 minutes. Now add garlic and sauté until fragrant, about one minute. 
4) Add the remaining 2 tbsp of butter, once melted, add the mushrooms, thyme, dried rosemary, sage, Boku Umami, Boku Super Shrooms, and Boku Superfood. Sauté for 5-6 minutes until mushrooms are softened.
5) Add just 2 cups of broth, salt & pepper to the pan. Bring to a simmer and cook for 2-3 minutes. Remove from heat and slowly add the mixture to the bowl of bread cubes. Then add the fresh parsley and toss gently to combine. Keep adding broth until desired moisture is achieved.
6) Place mixture into the prepared casserole dish and wrap tightly in foil. Bake for 25-30 minutes. Remove foil and bake uncovered with optional dried cranberries added for 15-20 minutes or until lightly brown & crispy on top. Enjoy!