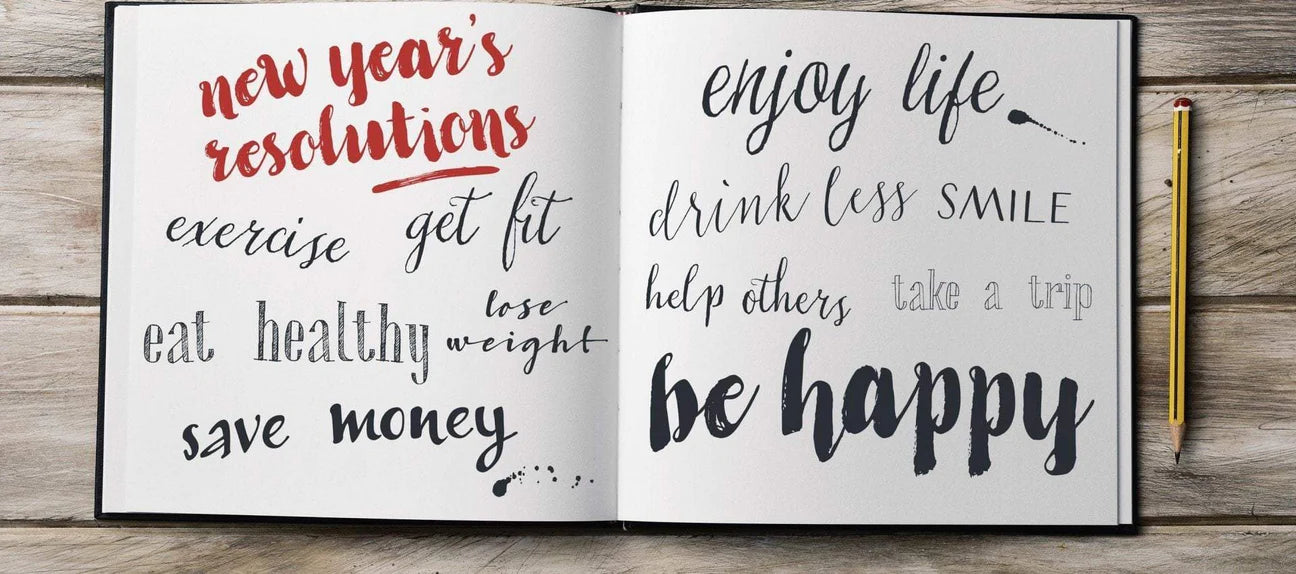 Happy 2017! We hope everyone enjoyed the holidays!
The ring of the new year officially marks the end of the holiday season known for family and friends gathering to enjoy lavish feasts, parties with delicious appetizers, and of course enough sweets to keep the dentistry profession thriving all year long.

All joking aside, what really should be thriving this year is YOU! We're sure you've made New Year Resolutions in the past, but this year, we are here to make sure they become more than just New Year Resolutions.
Here are 6 tips on how to ditch your old bad habits and create sustainable new LIFE resolutions.
1. BUILD KEYSTONE HABITS
A term coined in the popular book The Power of Habit, Keystone habits are positive habits that can spark a positive chain reaction to help create additional good habits! For example, regular exercise is a keystone habit. This usually creates a chain reaction to be more mindful of nutrition, sleeping habits, productivity and more!
2. IDENTIFY UNWANTED HABITS
To better your life and make room for new, healthy habits, we must flush out the old unwanted ones! Write down a LIST of habits you want to change or replace with healthy ones. Writing makes your ideas clearer and focuses your mind on the goal.
3. UNDERSTAND THE HABIT LOOP
Your brain creates "habit loops" to make your life easier, kind of like autopilot. Without this, we'd be overstimulated and would become overwhelmed by something seemingly simple like walking, breathing, or driving. These forms of autopilot can be very useful, however, when they perpetuate bad habits such as overeating or smoking they become detrimental to our health.
4. IDENTIFY YOUR PERSONAL HABIT LOOPS
To break the habit loop, you need to first identify the 3 components of it:
The Cue:

Trigger to your habit,

such as stress.

The Routine:

The habit itself,

such as binge eating sweets

.

The Reward:

The reason why you were motivated to do the behavior, such

as a distraction from your stressful mind-state.
5. OUT WITH THE OLD, IN WITH THE NEW!
After you identify your cue, routine, and reward, you can work on altering your habit. When you feel your cue arise, replace your old habit with a healthy new routine that satisfies the same reward as before.
A healthy change of routine for the example in #4 would be the following:
Cue:

Feeling stressed,

NEW Routine:

Running/walking 1 mile

Reward:

Relief and distraction from your stressful mind-state.
6. HAVE PATIENCE AND BE PERSISTENT
Rome wasn't built in a day, and your new habits won't be either! As you retrain the powerful tool we call the brain, be patient with yourself and don't give up. It is said that it takes 60 to 90 days to create a new habit. Don't let that number frighten you, take it day by day and you will be there before you know it.
EXTRA TIPS AND RESOURCES
Need some inspiration for new healthy habits? Author of The Power Of Habit, Charles Duhigg, says "The way we organize our thoughts and work routines has enormous impacts on our health, productivity, financial security, and happiness." Try creating a routine of having a BōKU shake every morning for breakfast! You'll be surprised at the positive influence it will have on the rest of your day!
What are your New Year Resolutions you are turning into New LIFE Resolutions? We want to hear from you! Comment your New Life Resolutions below and we'll send you an exclusive BōKU Coupon to start your new year off strong and healthy!
Merci BōKU!
The BōKU Team