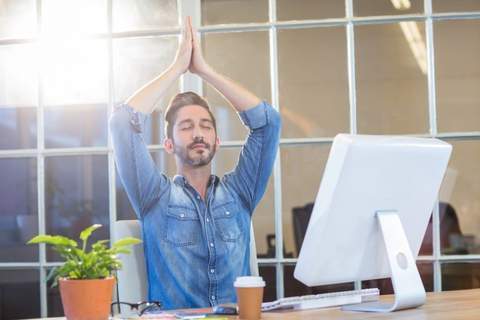 It's no secret that sitting at a desk for 40-plus hours a week is bad for the body. Of course, most of us spend a significant amount of time perched in our offices or cubicles. So what's a soul to do?
Two words: Desk yoga.
Pause throughout the day to reenergize, stretch your joints and muscles, and relieve tension and stress. So how to do it without freaking out coworkers?
Try these two simple moves:
The Twist:
While seated on your desk chair, twist your upper body to your left. Use your left hand on the back of the chair to deepen the twist. Keep your feet firmly planted on the floor and knees together. Hold pose for 5 to 8 breaths, then twist to the other side.
High Altar Pose
While seated, inhale and lift your arms straight over your head. Clasp your hands together and invert your palms. Lean to your right. Hold pose for 5 to 8 breaths, then switch sides.
What are your favorite ways to relieve office stress? Join the BōKU® community on Facebook andTwitter and let us know how you stay mindful throughout the day — or what challenges you face trying to do so. We're grateful for your inspiration.
We hope you enjoy our weekly slice of inspiration where we share tips for living mindfully, helping you to love and live your life fully — every day.
Happy Journey,
Lynn and the BōKU® Team
Your planet, your health, your Super Food™
The post Mindful Moment: Desk Yoga appeared first on BōKU® Superfood.