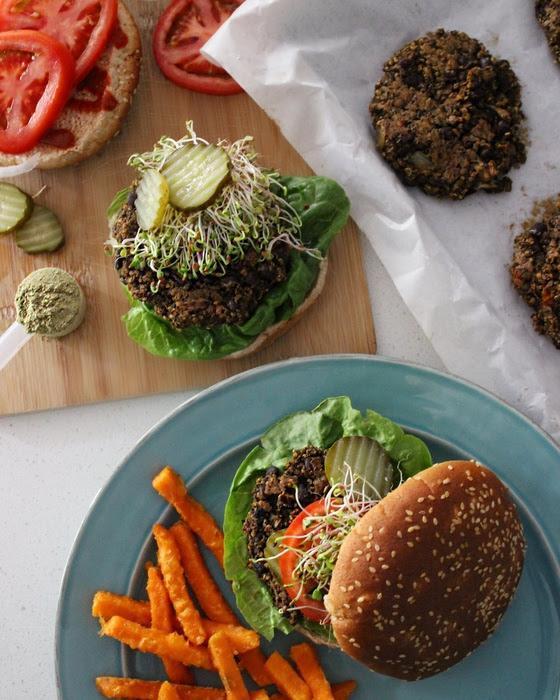 Happy National Veggie Burger Day! 
June 5th is national Veggie Burger Day, and we are celebrating!
Are you excited to eat a juicy - and superpowered - burger at your first summer barbecue, leaving the cruelty and cholesterol behind? We are definitely stoked to grill some of these babies up and share them with our friends and family.
There is no such thing as a fulfilling celebration without sharing the love - and we want to share with you this super-fire recipe that will transform your parties this summer into a healthy yum-fest.
Let's get to it:
The BoKU Super Burger
Here's an ode to the nostalgic summer BBQ memory of biting into a juicy burger with all the fixings. We have created this juicy meat-free rendition that will have your taste buds salivating with anticipation, just like that summer meal. With BōKU Super Food added to the mix, these patties will be packed with essential vitamins, minerals, digestive enzymes, and phytonutrients to make you the super person you are; plus, the plant-based proteins from quinoa and black beans will make you savor every bite of your homemade BōKU Super Burger.
1/2 cup Quinoa
1 Small Onion, finely chopped
6 Oil Packed Sun-Dried Tomatoes, drained & finely chopped
1 1/2 cup Cooked Black Beans, or 1 15oz can black beans, rinsed and drained
2 Cloves Garlic, minced (2 tsp)
2 tsp Dried Steak Seasoning
2 scoop BõKU Super Food (2 tablespoons)
8 Whole Grain Hamburger Buns
Stir together quinoa and 1 ½ cups water in small saucepan, and season with salt, if desired. Bring to a boil. Cover, reduce heat to medium-low, and simmer 20 minutes, or until all liquid is absorbed. (This will give you 1½ cups cooked quinoa.)
Meanwhile, place onion and sun-dried tomatoes in medium nonstick skillet, and cook over medium heat. (The oil left on the tomatoes should be enough to sauté the onion.) Cook 3 to 4 minutes, or until onion has softened. Stir in ¾ cup black beans, garlic, steak seasoning, and 1½ cups water. Simmer 10 to 12 minutes, or until most of liquid has evaporated.

Transfer bean-onion mixture to food processor, add ¾ cup cooked quinoa, 2 tablespoons of Boku Super Food, and process until smooth. Transfer to bowl, and stir in remaining ¾ cup quinoa and remaining ¾ cup black beans. Season with salt and pepper, if desired, and let cool.

Preheat oven to 350°F, and generously coat baking sheet with cooking spray. Shape bean mixture into 8 patties (½ cup each), and place on prepared baking sheet. Bake 20 minutes, or until patties are crisp on top. Flip patties with spatula, and bake 10 minutes more, or until both sides are crisp and brown. Serve on buns with all of your favorite toppings! We love to use romaine lettuce, tomatoes and purple onion.
Hungry yet?!
What does this burger offer besides deliciousness?
Quinoa
Black Beans
They seem like such a basic food that we've all eaten thousands of times - but did you know that every time you chomp down a black bean burrito, you're getting loads of protein, fortifying fiber, antioxidants, and countless vitamins and minerals? One cup of black beans contains a whopping 15 grams of protein...as well as folate, copper, manganese, iron, vitamin B1 thiamine, and zinc - and zero fat.
Between the protein levels in black beans and quinoa, you won't be missing red meat at all. 
Super Food
The real "meat" of the veggie burger is in a generous helping of super food powder, as it is packed with an astronomical fifty-five organic ingredients that each serve an important physiological function. We could write a whole book about the benefits of what appears to be a simple green powder, but here are just a few simple, digestible reasons this food powder is so super:
Medicinal Mushrooms - Super Food OG contains 14 specialty mushrooms that have been used in traditional Chinese medicine since ancient times. They delivers a wide-array of super adaptors (helping your body to adapt to stress) prebiotics and potent antioxidants that have an ORAC (oxygen radical absorbance capacity) value similar to super fruits.

Probiotics -

 Lactobacillus Sporogenes is a beneficial probiotic bacteria that has been deemed safe and effective as a

treatment for joint pain, tenderness and swelling, with a strong resistance to damage in the gastrointestinal tract. But its scientific name is a misnomer; the root "lacto" signifies that this powerful intestinal bacteria comes from cows. But this probiotic- more accurately titled "bacillus coagulans," is derived from soil, not milk - so it's vegan!

Greens from the Sea - For example, the Super Food OG contains kelp. Kelp is loaded with potassium, boron, soluble fiber and iron, and vitamins A, B12, C and E. But its true claim to fame is its tremendously high concentration of iodine - the highest of any food. Iodine is useful in that thyroid hormones cannot be synthesized without this essential mineral.  
Nettle Leaf - While there may be no cure for the common cold; nettle comes close with its respiratory benefits and its anti-inflammatory properties - it has been used in teas since Medieval times for this purpose. If your sneezes and coughs are allergy-related, nettle has still got you covered: it is one of nature's greatest antihistamines. Oh, and the silica and sulfur in the nettle leaf will make your hair grow and shine!
We're really just scratching the surface here, so try it! Get the full body effect of this powerful burger that will serve your wellbeing so much more than a beef hamburger ever could. Oh, and don't forget the fries!