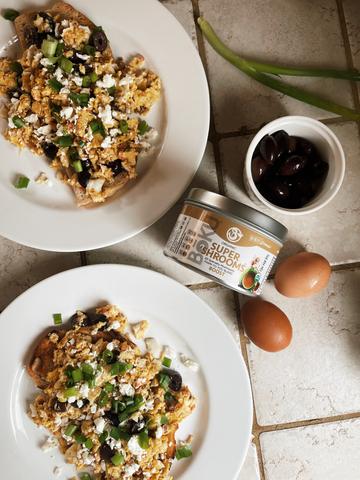 6 organic pasture-raised eggs
1 scoop Boku Super Shrooms
1/4 cup shredded cheddar cheese or vegan melting cheese
splash of cream or milk of choice
3 tbsp chopped kalamata olives
1/4 cup green onions, chopped
1/4 cup feta cheese or vegan crumbly cheese
4 slices of bread, toasted and buttered
salt and pepper to taste
Grease a pan with oil or butter over medium heat.
Crack in the eggs and add cream, Boku Super Shrooms, cheddar cheese, and stir to combine.
Once the eggs are almost fully cooked, stir in the olives, and green onions. Set aside a handful of green onions for serving. Add a sprinkle of salt & pepper to taste if desired.
Toast and butter your favorite bread (if you are on KETO, serve without bread or with a low-carb alternative). Add two slices to each plate. Pile the eggs on top of the toast and sprinkle with feta cheese and the rest of the green onions. Serve immediately and enjoy!