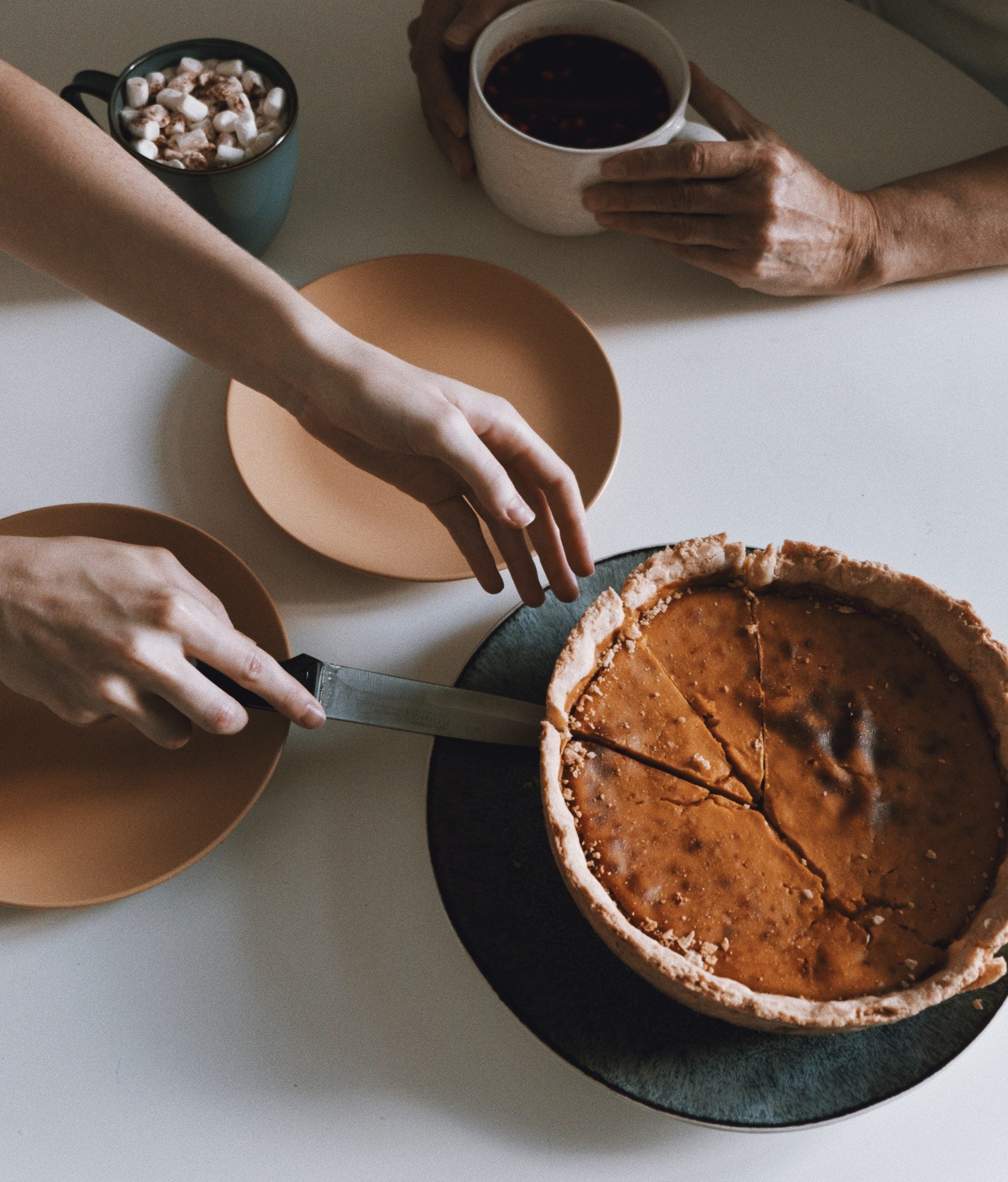 Pie Filling Ingredients:
3 large sweet potatoes (about 3 cups)

4 tbsp (1/2 stick) soften butter

2 tbsp

Boku Super Shrooms

1/2 cup shredded manchego cheese

1/4 cup crumbled goat cheese

3 large eggs, beaten

1/4 tsp red pepper flakes

3/4 tsp fresh sage

1/4 tsp coarse salt

1/4 ground black pepper

Small pinch ground nutmeg
Pie Filling Directions:
Preheat the oven to 375°F. Using a vegetable brush, rinse and scrub grit off potatoes.

Using a baking sheet with parchment paper, roast potatoes for 45 minutes to 1 hour. They should be soft to the touch.

While potatoes are baking, roll out prepared butter pie crust dough into a tart pan and parbake for 8 to 12 minutes. Remove and convert to cooling rack.

Remove potatoes from oven and reduce temperature to 350°F, let cool a bit, and remove skins.

Add potatoes, Boku Super Shrooms powder, butter, cheeses, eggs, and spices into a large bowl. Stir the mixture until smooth and combined. Fill the pie crust with filling. Bake for 40 minutes. Let cool for 15 minutes and serve.
Pie Crust Directions:
Preheat the oven to 375 F. In a large mixing bowl, combine the flour, salt, and sugar. Using a pastry blender, cut the butter into the flour.

When the mixture resembles sand with lumps, sprinkle half the ice water on top and bring the mass of dough together. The water should only bring the dough together; the shape should be an imperfect ball. If needed, add more water if too loose.

Scoop dough onto parchment paper and press into a ball. Wrap tightly and place in the fridge for an hour. Chilling the dough is a must.

Lightly flour a surface. Using a rolling pin, roll out dough into a 10-inch circle (using a ruler for precision). Quickly transfer to a 9-inch pie pan. Gently press the dough into the pan, cut dough that hangs over the pan, and crimp the edges.

Reduce oven to 325 F. Parbaking: Line the crust with parchment paper and place ceramic pie weights (or dried beans) on top. Place in oven and let the shell bake for 8 to 12 minutes. Remove and convert to cooling rack.
Note: If your pie edge starts to brown too quickly, place strips of foil over the crust edges.
Pie Crust Ingredients:
1-1/2 cups all-purpose flour, plus extra for rolling out dough

1/2 tsp coarse salt

1 tsp granulated sugar

1/2 cup (1 stick or 8 Tablespoons) unsalted butter, cold

1/4 cup ice water, divided use