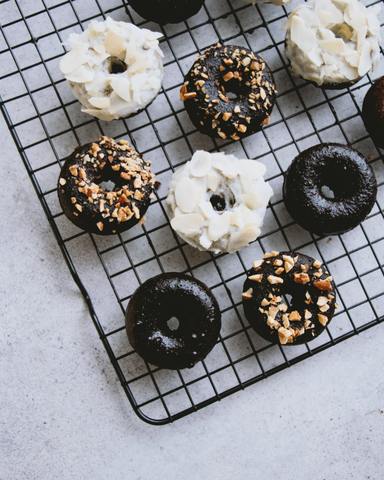 1/2 cup almond meal

1/2 tsp baking soda

1/2 tsp baking powder

1/4 cup Boku Coco Love or cocoa powder

1/4 cup maple syrup

2 tbsp coconut oil

1/4 cup egg whites

1/4 cup almond milk

1/4 cup Greek yogurt

coconut oil spray

donut tins
Greek Yogurt Frosting Ingredients:
1/4 cup cream cheese

1/4 cup organic Greek yogurt

pinch of Stevia or 4-5 tbsp powdered sugar

1/2 tsp pure vanilla extract
Donut Directions:
Preheat the oven to 350 degrees.

In a bowl, combine all dry ingredients and stir to combine. Add the wet ingredients and mix until combined.

Spray donut tins with coconut oil and scoop batter into each one. Bake for 15 minutes or until a toothpick comes out clean.

Enjoy plain or top with chopped nuts, coconut chips, or Greek yogurt frosting.
Frosting Directions:
Blend all ingredients together until completely smooth. Refrigerate leftover frosting for up to 4 days.