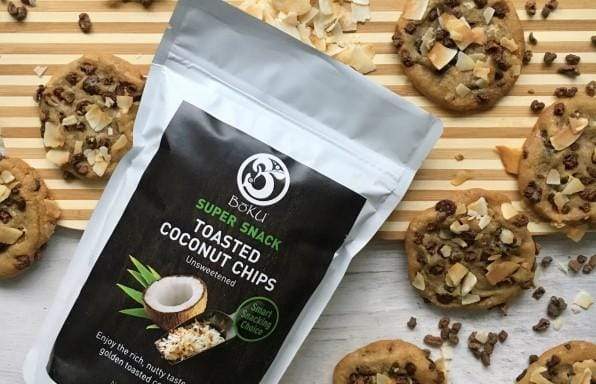 1/4 cup Soy Milk
1 tsp Vanilla Extract
1 cup BõKU Cacao Nibs
1 cup Softened Soy Margarine
1/2 cup Regular White Sugar
1/2 cup Brown Sugar
1/2 tsp Salt
1/4 cups Flour
1 tsp Baking Soda (NOT Baking Powder)
1/2 cup Boku Toasted Coconut Chips
In a mixing bowl, blend together the soy margarine, brown sugar and regular white sugar. Then add soy milk and vanilla and mix well until it is nice and creamy.
Next, add the dry ingredients and mix with a wooden spoon or hand mixer. Finally, fold in the BõKU Cacao Nibs and Toasted Coconut. (If you really love that chocolatey taste, feel free to toss a few more in!)
Line a baking sheet with parchment paper and drop 1 tablespoon scoops of dough, spaced a few inches apart. Bake at 350F for about 8-10 minutes or until the edges are brown. Enjoy!