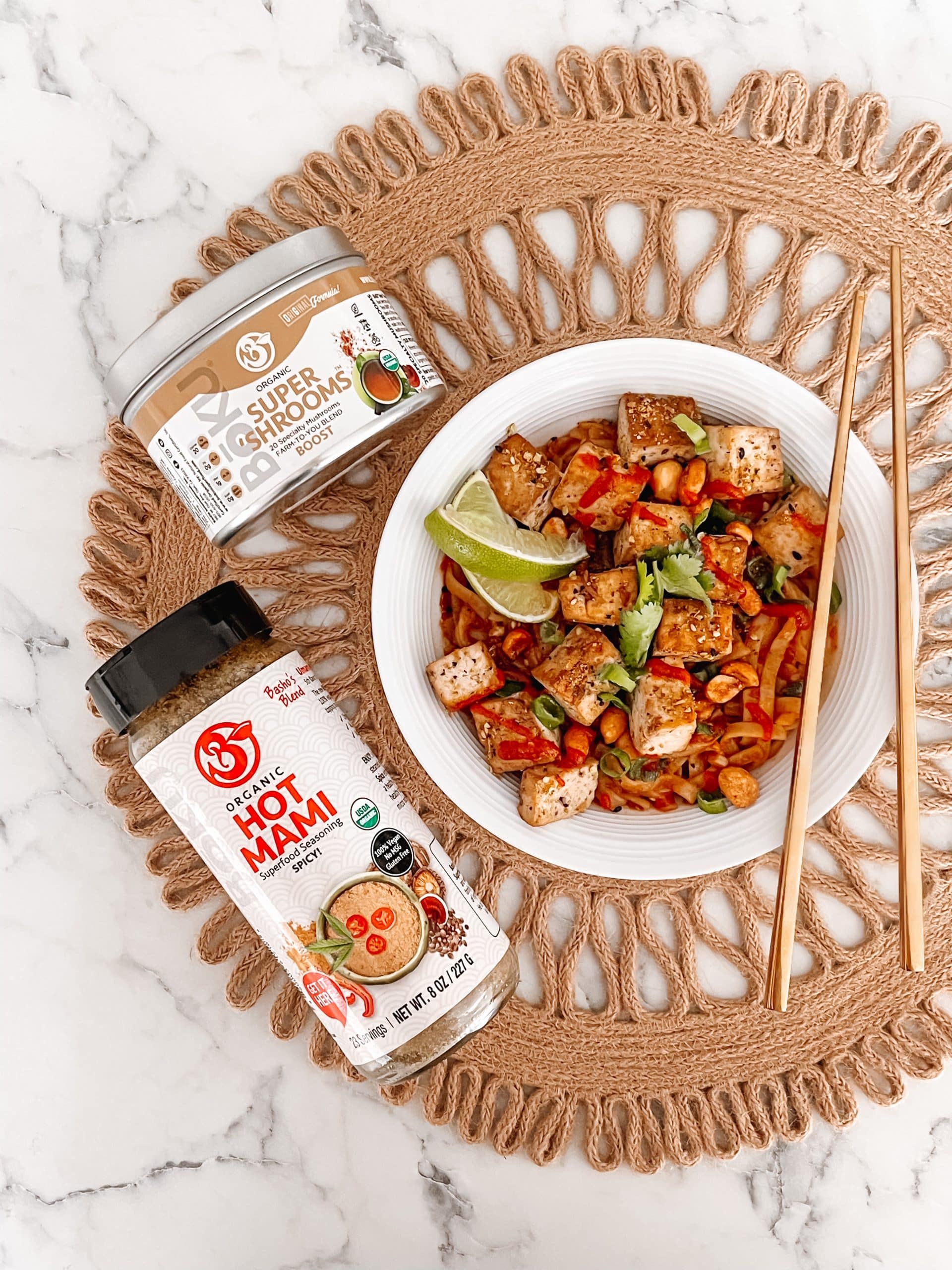 6 oz brown rice noodles (or noodles of choice)
1/2 block extra firm tofu
2 tsp sesame oil
2 tbsp diced green onions
PEANUT SAUCE
1/3 cup creamy peanut butter
3 tbsp liquid aminos or soy sauce
1 tbsp rice wine vinegar
1 tbsp maple syrup
1 tbsp lime juice
1/2-1 tbsp chili garlic sauce
2 tsp Boku Super Shrooms
1/2 tbsp Boku Hot Mami
3-4 tbsp water
OPTIONAL GARNISH
peanuts
sliced green onions
chopped cilantro
lime wedges
sriracha or chili garlic sauce
Boku Hot Mami
Cook noodles al dente according to package instructions.

For the peanut sauce, whisk together all ingredients, adding 1 tbsp of water at a time until desired consistency is reached.

Press as much moisture out of the tofu as possible and cut into cubes.

Heat a skillet over medium heat with a little sesame oil. Add in tofu and cook until golden on both sides and crispy (about 8 mins). Sprinkle with Boku Hot Mami. Set aside.

Heat a little more sesame oil in your skillet and add in green onions.

Reduce heat to low and stir in tofu, drained noodles, and peanut sauce. Toss/cook until heated through.

Remove from heat. Top with peanuts, sliced green onions, cilantro, lime wedges, sriracha, and more Boku Hot Mami. Enjoy!