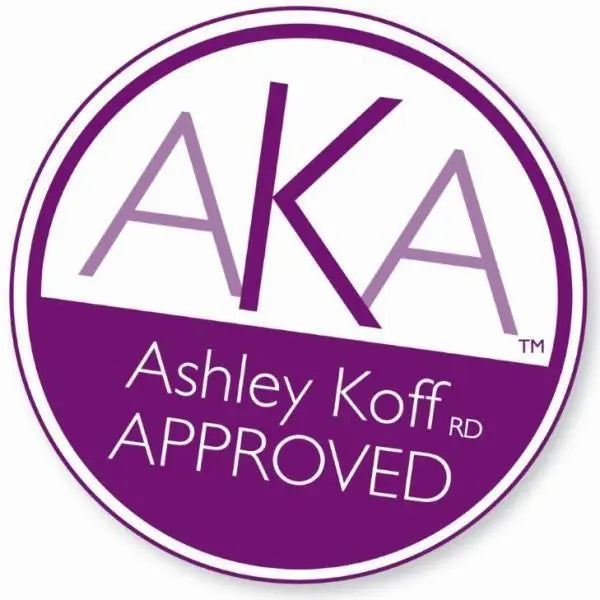 At BōKU we're honored — and pretty psyched — that famed dietitian Ashley Koff, RD has given her seal of approval to a number of BōKU Super Food products. If Koff's name rings a bell, it's likely because you've seen or heard the world-renowned dietitian touting the virtues of healthy living across national television and media. The Dr. Oz Show, Deepak Chopra's YouTube show, The New York Times, The Chicago Tribune, Prevention, and O! The Oprah Magazine are among many outlets featuring her expert advice.
To empower her clients and fans, Koff created her Better Nutrition, Simplified Program, which delivers information and tools needed to achieve better nutrition, and ultimately, better health.
One of the key features of Koff's plan is Ashley Koff Approved (AKA) Personal Shopper. After sifting through nearly 50,000 products, like foods and dietary supplements, Koff has designated a very select few to achieve AKA status, and the coveted AKA Stamp of Approval.
The products on Koff's approved shopping list have superior quality ingredients because as Koff notes, "Better quality means better health."
That's where BōKU Super Food comes into the picture. Koff gives the thumbs up to a number of our products. You can feel comforted knowing Koff guarantees our goods of the highest quality. These BōKU product's proudly bear Koff's AKA Stamp of Approval:
BōKU Superfood™ is our proprietary, nutrient dense, organic superfood powder. The product is a blend of 55 synergistic superfood ingredients, including: super fruits, super greens, super vegetables, exotic maca, probiotics, enzymes, phytonutrients and antioxidants. Buy Super Food
Designed specifically for elite athletes and discerning clientele, Super Fuel offers a body and mind lift. Containing super adaptor phytonutrients and performance-enhancing ingredients, the formula is the result of more than 5 years of intense research. Buy Super Fuel
BōKU Super Protein is a triple source vegan protein powder, made from sprouted rice protein, red dulse and cranberry seed protein. Our Super Protein powser is free of common food allergens typically associated with soy, milk, egg, wheat and yeast, and is readily digested and utilized by the body to help support healthy muscular functions and growth. Buy Super Protein
You won't find artificial flavorings, artificial sweeteners or colors in this ultimate, super berry drink mix. What you will discover is a blend of 10 super berries, gathered from pristine, exotic organic sources around the world. Buy Super Berries
BōKU Bars: Chocolate Fudge Brownie
These organic, vegan, Kosher BōKU Super Bars are "super" because of their ingredient blend of superfoods. The BōKU Super Bars feature highly absorbable rice protein with antioxidant-rich fruits and vegetables, wrapped up in a chewy and delicious, chocolatey bar. Buy the Bars
The post Ashley Koff Approved: Famed Nutritionist Gives BōKU the Thumbs Up appeared first on BōKU® Superfood.