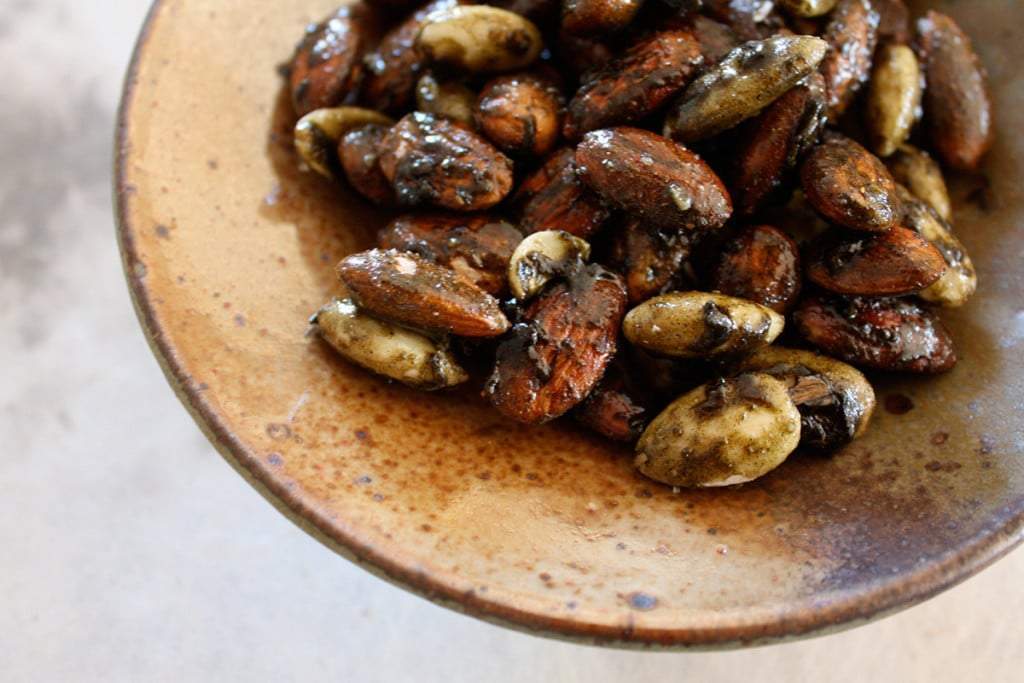 1 cup Soaked / Dehydrate Raw Almonds
1 pinch Sea Salt
1/2 count Scraped Vanilla Bean Seeds
1 tbsp Agave
1/4 tsp Cayenne, to taste
1 tbsp Boku Super Food
1 tbsp Real Maple Syrup
To prepare the sprouted and dehydrated almonds, you will need to soak and dehydrate the almonds taking in total 24 hours to 3 days. The time difference depends on how long you want to soak the nuts and how dry you prefer them when dehydrating.
Start the sprouting process by placing the necessary amount of raw almonds in a sealable container and cover an inch over with filtered water and mix in a tablespoon of sea salt. Soak the almonds for at least 6 hours to activate the dormant nutrients in the raw nut and the longer they soak they have the ability to be more nutrient dense. Do not exceed 3 days of soaking. Drain the water after every day you and refill with filtered water but do not add salt again. Store in the fridge until ready to use.
To dehydrate pre-heat your oven to 150F and place the drained and patted dry almonds on a wax paper covered baking tray, spreading them out evenly and baked for 12 – 24 hours turning occasionally until they have reached the dryness you desire. The almonds are now ready to be used in the recipe or stored for later use.
In a bowl big enough to hold the almonds first combine and stir together the syrup, spices, Boku Super Food with a silicone spatula.
Prepare a baking sheet with wax paper and set to the side. Stir the sprouted dehydrated almonds into the bowl of ingredients until completely covered and transfer them to the tray. Sprinkle them evenly with the sea salt and eat right away or store in sealable container for up to a month.
*Any nut or seed works great with this recipe and you can split the portions up between multiple varieties of either. To speed up the sprouting and dehydrating process you can pre-purchase sprouted dehydrated nuts. It is important to soak almonds to not only activate dormant nutrients but also to neutralize the enzyme inhibitors found in almonds.