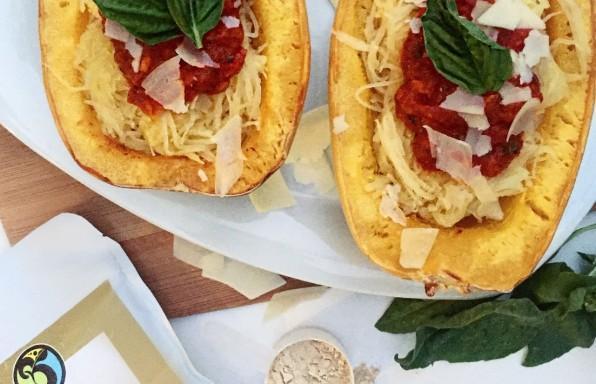 1 count Spaghetti Squash
2 tbsp Olive Oil
1 count Medium Onion, chopped
2 tbsp Garlic, minced
2 count (15 oz) Cans Tomato Sauce (you may substitute one of the cans for crushed or stewed tomatoes if you like chunks of tomatoes)
1 count (6 oz) Can Tomato Paste
2 scoop BõKU Super Shrooms
1 tsp Dried Oregeno
1 tsp Dried Rosemary
1/2 tsp Crushed Red Pepper Flakes (can be omitted if you prefer)
3/4 tsp Salt
1/4 tsp Pepper
1 tsp Sugar (optional)
Preheat the oven to 375°F and halve squash lengthwise. Use a spoon to scoop out and discard seeds from the middle of each half.
Arrange squash in a 9×13-inch casserole dish, cut sides sup. Drizzle 1-2 tablespoons of olive oil inside each half. Season with salt and pepper. Bake for 40-45 minutes or until soft.
When the Spaghetti Squash has about 20 minutes left, combine onion, garlic, tomato sauce, tomato paste, BõKU Super Shrooms, oregano, rosemary, crush red pepper flakes, salt, pepper and sugar (optional) in a medium sized saucepan.
Heat over medium heat, stirring occasionally, for 10-15 minutes. Set on lowest heat until Spaghetti Squash is out of the oven.
Rake a fork across the squash to remove its flesh in strands, looking just like spaghetti! Serve with pasta sauce. Use basil as garnish. Add regular or vegan parmesan if desired.