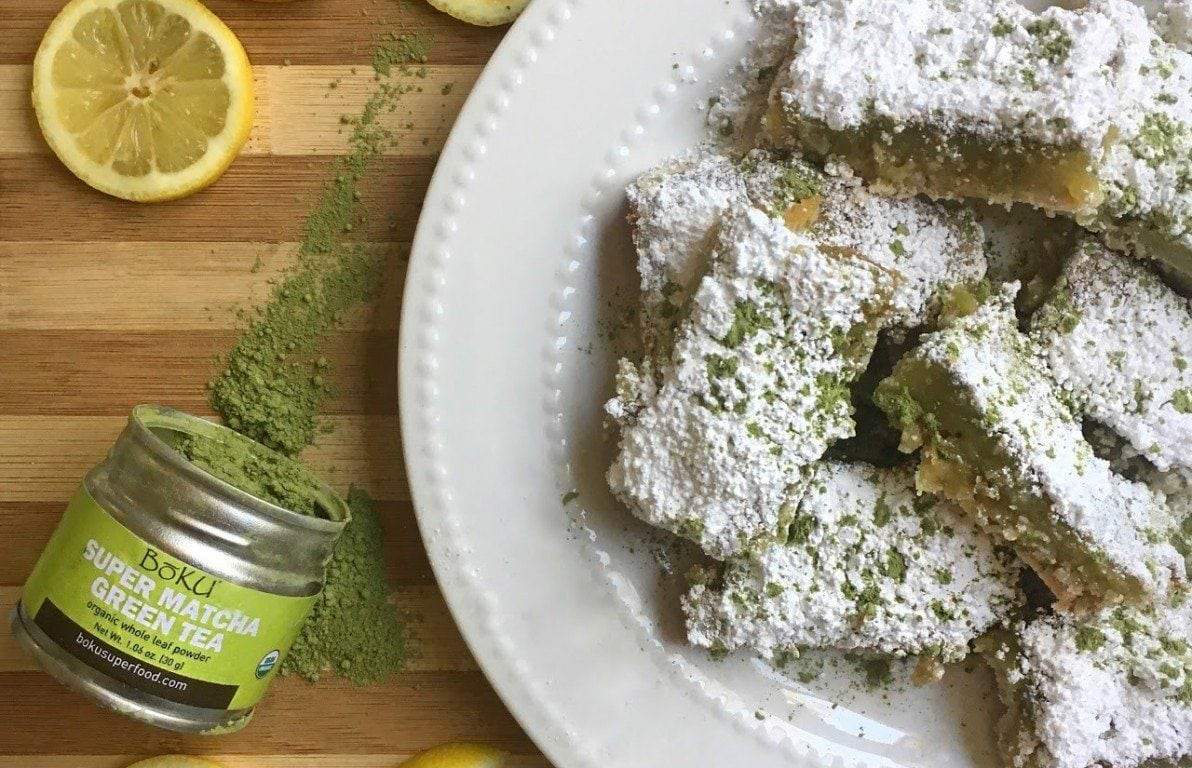 1 1/4 cups all-purpose flour
1/4 cup granulated sugar
3 tbsp confectioner's sugar
1 tsp finely-grated lemon zest
1/4 tsp sea salt
10 tbsp cold, unsalted butter, cut into cubes 1/4 cup all-purpose flour
2 tsp cornstarch
1 tsp baking powder
1/4 tsp kosher salt
1 1/2 tbsp Boku Super Matcha Green Tea
1 1/2 cups sugar
3 cup eggs, beaten
3/4 cup fresh lemon juice (from about 3 lemons)
1/2 tbsp lemon zest
Preheat the oven to 325 degrees and line a 9″x 9″ baking pan with parchment paper, leaving a few inches hang-over on two sides to act as handles for pulling out the finished bars.
Begin by making the shortbread crust. In a food processor, combine the flour, sugar, confectioner's sugar, salt, and lemon zest and pulse a few times to combine. Add the butter and pulse until a crumbly dough forms. Use your hands to press the dough into the prepared pan and bake for 30 to 35 minutes, until just lightly golden. Set aside.
In a small bowl, whisk together the eggs, lemon juice, sugar, and lemon zest.
Set aside. In a medium bowl, whisk together the flour, cornstarch, baking powder, salt, and Boku Super Matcha. Add the egg mixture and whisk to combine.
Pour over finished shortbread crust and bake for 25 – 30 minutes, until the center is set and no longer wobbles when you shake the pan.
Place the pan on a wire rack on the counter and let cool to room temperature before transferring to the refrigerator to finish setting, about four hours. Once firm, remove the bars from the pan and cut into 9 or 12 squares before dusting with powdered sugar. Serve immediately. These will remain fresh for up to 3 days in an airtight container on the counter.