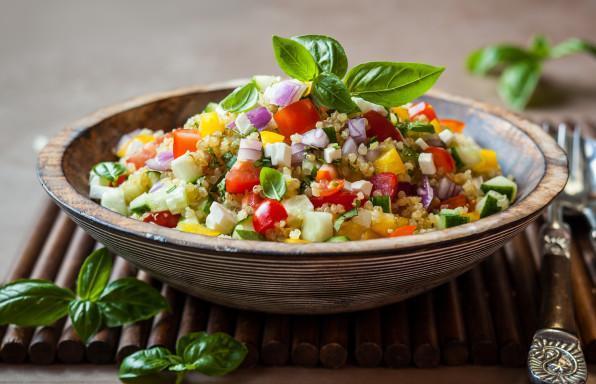 1/2 cup Quinoa
4 tsp Feta (for a vegan version, leave this out)
1 count Cucumber, quartered thick slices
1 cup Fresh Basil, chopped
2 count Green Onions
2 count Green Onions (green and white parts chopped)
1 count Garlic Clove, minced
1 scoop (1 Tablespoon) BõKU Super Food
2 tbsp Olive Oil
1 count Lemon, juiced
Salt and Pepper To Taste
A few pinch Fresh Parsley, chopped for garnish
Cook the quinoa according to the directions. Set aside to cool before mixing.
In a large bowl mix the feta cheese, cucumber, fresh basil, green onions, cherry tomatoes and minced garlic. Mix in the olive oil and lemon juice to coat the salad.
Add the quinoa and toss to combine. Add salt and pepper to taste. Let the salad sit for a few minutes for the salt to bring out the flavors and re-taste to see if more needs to be added.
Garnish with parsley and serve or cover and refrigerate.