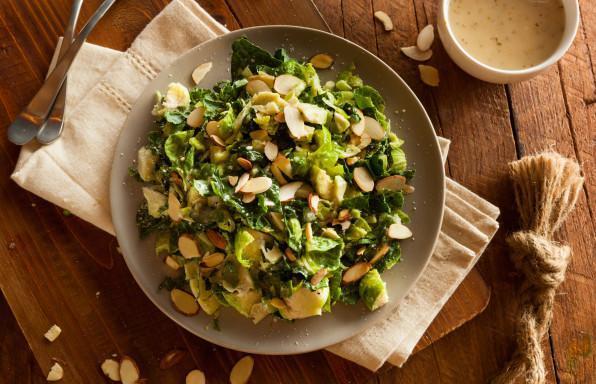 1 count De-Stemmed Kale, thinly sliced
12 count Brussels Sprouts, washed, ends cut off and thinly sliced
2 count Lemons, juiced
1 1/2 tbsp Dijon Mustard
1/2 count Shallot, minced
1 count Garlic Clove, minced
2 pinch Sea Salt & Ground Pepper, to taste
1 scoop (1 tablespoon) BõKU Super Food
1/2 cup Extra-Virgin Olive Oil
1/3 cup Raw Sliced Almonds
Wash and destem the kale, placing the leaves in a salad spinner or bowl to dry.
Once the leaves are dry, thinly slice and place them into a large serving bowl with room to add the rest of the ingredients.
In a small bowl or measuring cup combine the ingredients for the dressing except the oil. Whisk the oil into the dressing until it is completely combined and add 3/4th of the completed dressing to the kale. Massage in with your hands.
Wash the Brussel sprouts and cut the rough ends off. Place the Brussel sprout face down and thinly slice them into shreds or flat pieces. Toss the Brussel sprouts with the marinated kale until well combined.
Plate your desired amount of salad and top with a tablespoon of sliced almonds.