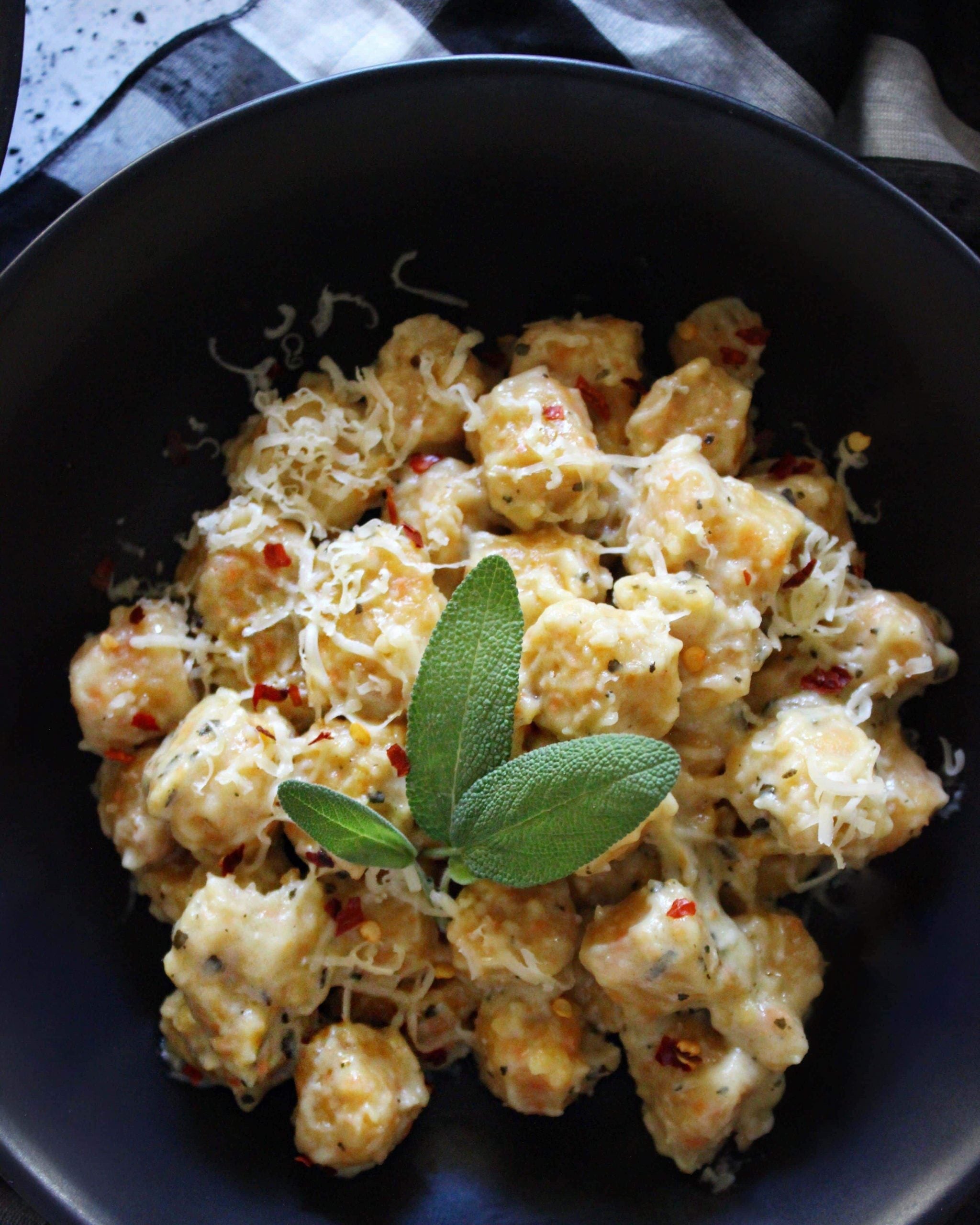 1 medium/large sweet potato
1/4 cup unsweetened almond milk
1 1/4 cups all-purpose flour
1 tbsp nutritional yeast
1 tbsp of chopped sage
2 shallots, roughly chopped
3 tbsp Boku Super Shrooms
2 cups of organic whole coconut milk
1/2 tsp of garlic powder
1/4 cup of vegetable stock
1 tbsp of extra virgin olive oil
salt and pepper to taste
Peel the sweet potato and cut into 1-inch chunks. Add to a medium-sized pot and cover with cold water. Bring to a boil and boil for 15-20 minutes, or until fork tender.
Once the sweet potato is done, drain water and add sweet potato to a large mixing bowl. Add almond milk, nutritional yeast, and salt & pepper. Using a masher or hand mixer, mash until very smooth.
Add flour. Using a large spoon, stir to combine. Knead with your hands for a minute or so until a soft dough forms. Place dough onto a lightly floured work surface. Using your hands, roll out sections of the dough into long "snakes". With a sharp knife, cut into 1-inch "pillows."
Bring a medium/large pot of salted water to a boil. Drop 10-15 gnocchi at a time into the water. Once they start to float, boil for an additional 2 minutes (about 5 minutes total). Cook additional gnocchi. Using a slotted spoon, remove boiled gnocchi and set aside.
In a large deep saucepan set on medium heat, add your olive oil. Fry shallots and sage until shallots are translucent. Season with salt, pepper and garlic powder.
Pour in vegetable stock, Boku Super Shrooms, followed by coconut milk (Tip: whisk coconut milk until fat and milk are well combined before adding to the pan). Mix well. Throw in the sweet potato gnocchi. Combine well. Serve topped with your favorite grateable vegan cheese and enjoy!