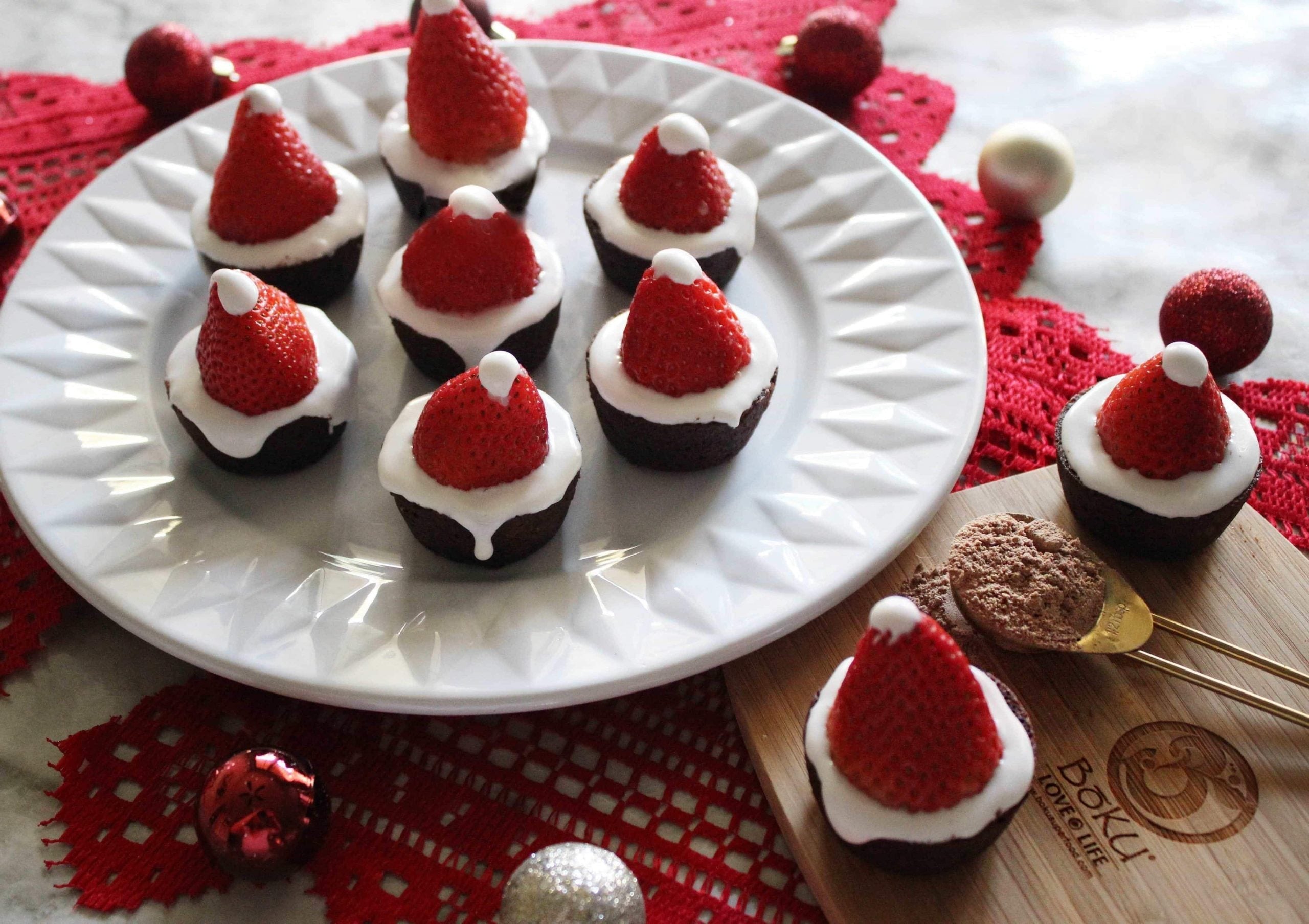 1 cup + 2 tbsp coconut milk
1/2 cup + 3 tbsp oil
1 tbsp pure vanilla extract
1 cup flour
1 cup unsweetened cacao or cocoa powder
2 scoop Boku Super Protein Chocolate
1/4 tsp + 1/8 tsp salt
1/2 tsp baking powder
1/2 cup brown sugar
1/3 cup unrefined sugar
2 tbsp cornstarch, loosely packed
12-15 strawberries, cleaned and destemmed
Frosting :
1 cup room temperature vegan butter
3 cups powdered sugar, use organic if possible
2 teaspoons almond milk, soy milk or other nut milk, or substitute water
3/4 teaspoon pure vanilla extract
Whisk together the first 3 wet ingredients, then set aside. Preheat oven to 330 degrees. Grease a 9×13 pan or line with parchment paper, and set aside.
In a large mixing bowl, thoroughly combine all remaining dry ingredients. Pour wet into dry, stir to combine, and pour into prepared pan. Smooth down. Bake 16 minutes. The brownies will look a little underdone when they come out, but that's okay! Refrigerate for a few hours till they set.
Prepare frosting when brownies are done setting. Make sure all of your ingredients are room temperature. Place all frosting ingredients with 1/2 of the powdered sugar in a large bowl and cream together with a mixer. Add the rest of the powdered sugar and continue to mix until well combined and frosting consistency.
Using a small round cookie cutter or a shot glass, cut out circular pieces of the brownie. Spread or pipe with frosting, top with a strawberry, and a little more frosting at the top to complete the "Santa hat". Repeat with as many pieces of the brownie you can cut out, usually around 12-15. Enjoy!