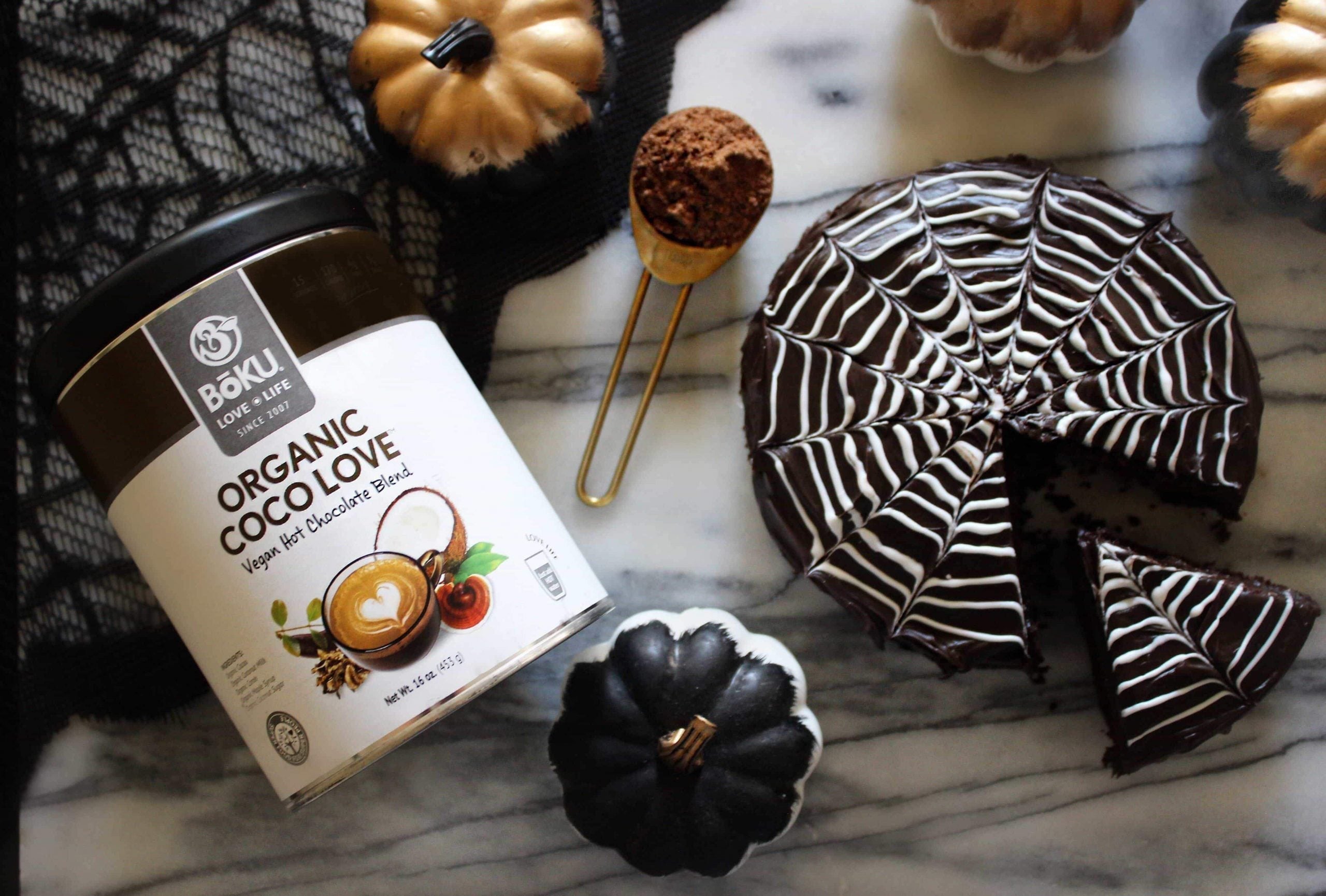 Dry ingredients:
2½ cups all-purpose flour
2½ cups white sugar
2/3 cup cocoa powder
1/4 cup Boku Coco Love
1 tsp baking powder
½ tsp baking soda
1 tsp salt
Wet ingredients:
2⅔ cups non-dairy milk (such as soy or almond)
⅔ cups light oil
2 tbsp apple cider vinegar
1 tsp vanilla extract
Frosting Ingredients:
½ cup vegan butter
½ cup vegetable shortening
1¼ cup powdered sugar
¼ cup cocoa powder
1 tsp vanilla extract
1 or 2 tbsp non-dairy milk (if needed)
Preheat your oven to 350. Prepare two 8″ round baking pans by lightly greasing them, and then cutting a circle of parchment paper to fit into the bottom.
In a large bowl whisk together all of the dry ingredients, then set aside. In a medium bowl whisk together all of the wet ingredients. Pour the wet ingredients into the dry ingredients and mix until just combined. Don't over mix.
Divide the batter into the prepared pans, then pop them in the oven. Bake for about 40 minutes until a toothpick inserted into the center comes out clean. Let the cakes cool completely before frosting.
Use a mixer to blend all of the frosting ingredients except for the non-dairy milk and cocoa powder. Blend until whipped and creamy. Set aside a couple of tablespoons for spiders web design if desired. Add in cocoa and blend. If the frosting is a bit too stiff, add 1 to 2 tablespoons of non-dairy milk as needed until desired consistency is reached.
Run a knife around the edges of the cake pans, and flip the pans over to remove the cakes. Remove the parchment paper and discard. Place the first cake on your cake plate, and spread about half of the frosting on top. Place the second cake on top of the frosted cake, and spread the remaining frosting on top of that cake. For spider web make a spiral design with white frosting and drag toothpick straight through. Store the cake in the fridge or a cool place until you are ready to serve. Enjoy!