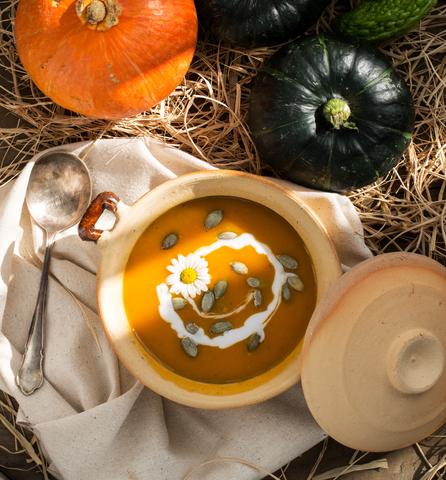 1 large pie pumpkin cut in half, seeds removed
1 tbsp olive oil
salt & pepper
6 tbsp vegan butter
2 small shallots, chopped
1 tsp fresh thyme, chopped
3 tbsp Boku Super Shrooms
4 cups vegetable broth
1 cup coconut milk
1 cup water
1 tsp cayenne pepper
1/4 teaspoon nutmeg
1 tbsp pure maple syrup
toppings: coconut cream, roasted seeds
Preheat the oven to 400 degrees F. Cut your pie pumpkin in half or into fourths and remove the seeds. Place the pumpkin on a baking sheet and rub the pumpkin with 1 tablespoon olive oil and sprinkle with salt and pepper.
Roast the pumpkin for 45 minutes, or until the pumpkin is fork tender. Remove from the oven and allow to cool five minutes. Grab the pumpkin and add it to a food processor (or mash extremely well) and puree with 1 cup of the vegetable broth, puree until completely smooth.
Heat a large pot over medium heat and add the butter and shallots. Saute the shallots until soft, about 5 minutes. Add the thyme and cook another 30 seconds. Add the pumpkin puree, remaining broth, Boku Super Shrooms, coconut milk, water, cayenne, nutmeg, and maple syrup. Bring the soup to a low simmer and simmer 15-20 minutes.
Ladle the soup into each bowl and sprinkle with roasted seeds of your choice, and a splash of coconut cream. Enjoy!