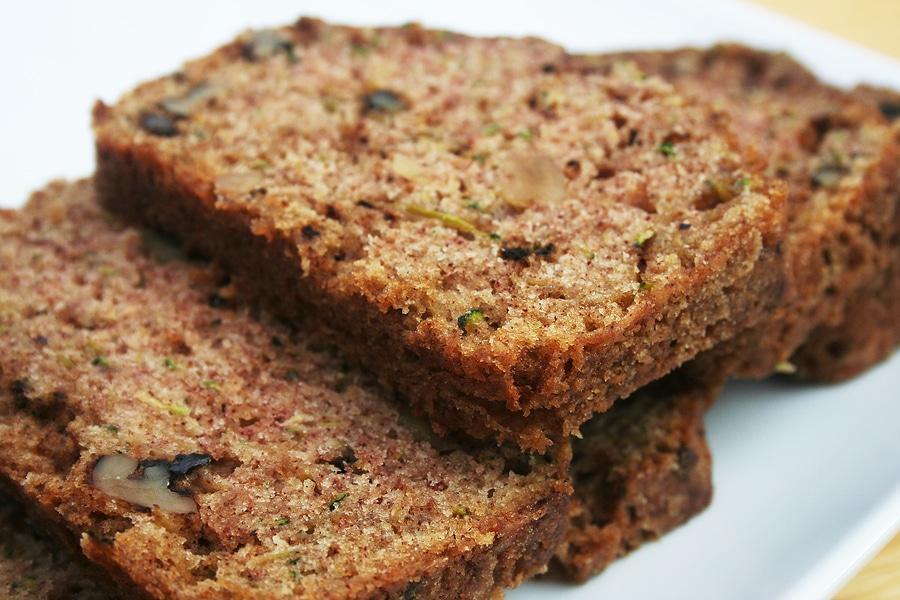 1 1/2 cups Whole Wheat Flour (or Gluten-Free Flour)
1/4 tsp Ground Ginger
1/2 tsp Baking Soda
1/4 tsp Fine Sea Salt
2 tsp Ground Cinnamon
1 tsp Apple Cider Vinegar
1/2 cup Unsweetened Soy Milk or Almond Milk
1/2 cup Evaporated Cane Sugar
1/4 cup Unsweetened Applesauce
1/4 cup Virgin Coconut Oil, melted
1 cup Finely Shredded Zucchini
1 1/2 tsp Pure Vanilla Extract
1/2 cup Toasted Walnuts or Pecans, chopped
2 tbsp BõKU Super Cacao Nibs
1 tsp Baking Powder
Preheat your oven to 350 degrees F. Spray bottom of an 8×4-inch loaf pan with cooking spray (we prefer to use coconut spray!).
Combine flour, baking powder, baking soda, salt, ginger and cinnamon in a large bowl; mix until smooth. Set aside.
Stir together vinegar and milk; let stand for 2 minutes until thickened. In a medium bowl thoroughly mix together milk mixture, sugar, coconut oil, applesauce, zucchini, and vanilla until well blended. Add flour mixture, stirring only until combined. Stir in nuts and Boku Cacao Nibs last. Spread evenly in pan.
Bake 50 to 60 minutes or until golden brown and it passes the toothpick test! (Stick a toothpick in the middle of the bread – if it comes out clean, it's done!) Cool in pan for 10 minutes. After, remove from pan and cool on a wire rack.