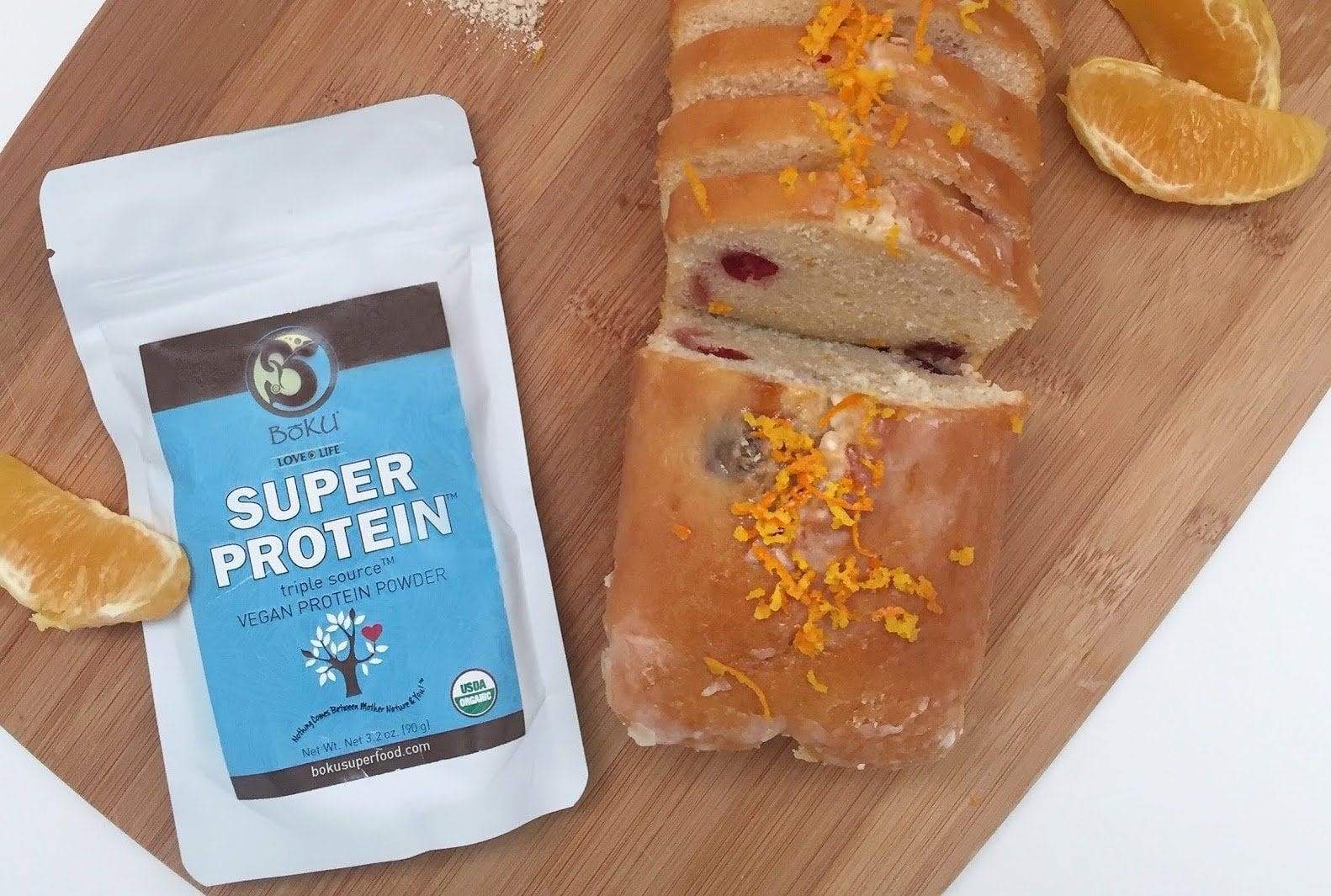 1 scoop Boku Super Protein 1 cup vanilla or plain Greek yogurt 1 tbsp fresh orange juice 1 tbsp orange zest
1 cup fresh cranberries
1 1/2 cup all-purpose flour
1/4 tsp salt
2 tsp baking powder
1 cup organic sugar
1/2 tsp vanilla extract
3 count large eggs
1/2 cup canola or vegetable oil
1/2 scoop Boku Super Protein
1 tbsp orange zest
1 cup powdered sugar
2 tbsp fresh orange juice
Preheat oven to 350 degrees F. Spray loaf pan with baking spray and set aside. In a small bowl combine the orange zest and sugar. Mix with your fingers until zest is coated with sugar and mixture is fragrant.
In large bowl mix together the Boku Super Protein, flour, salt, baking powder, and sugar zest mixture. Whisk together to combine.
In another medium bowl beat the eggs, add the Greek yogurt, vanilla extract, orange juice, canola oil, stir until combined.
Pour the wet ingredients into the dry and stir gently to mix. Once batter is mostly mixed, gently fold in the cranberries.
Pour the batter into the loaf pan. Using the back of the spoon evenly spread.
Bake for approximately 60 minutes. The top will be browned and a toothpick inserted into the middle will come out clean once done. Allow to cool in pan for about 10 minutes then turn the pan upside down to remove the bread from the pan. Move loaf to wire rack to continue cooling.
While bread is cooling prepare the glaze. In a small bowl add the powdered sugar, the Boku Super Protein, then the orange zest. Pour in the orange juice and stir. The glaze will be smooth. Stir until there are no clumps. Add more sugar or more juice to obtain desired consistency. Pour the glaze over the cooled bread.