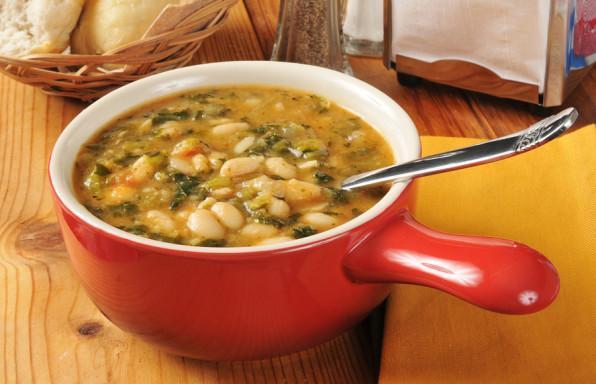 1 lb Dried White Beans (Cannellini, Navy or Great Northern), rinsed
1 Large Yellow Onion, chopped
1 Large Carrot, peeled & chopped
1/4 cup Extra-Virgin Olive Oil
2 Celery Stalks
5 Garlic Cloves
6 cups Vegetable Stock
1 can Diced Tomatoes
3 Fresh Thyme Sprigs
1 Bay Leaf
1 1/2 lbs Kale
1/4 cup Roughly Chopped Basil Leaves
Grated Vegan Cheese, garnish (*optional.. we live Almond Cheese)
Salt & Pepper, to taste
5 tsp BõKU® Super Shrooms
Put the beans in a large pot and add enough water to cover them by 2 to 3 inches. Cover them and bring to a boil, then adjust the heat so the water simmers. Cook, stirring occasionally, until the beans are tender. This will take about 30 minutes to 2 hours, depending on their size. Season with salt.
Just cool the beans, transfer them to an airtight container with their cooking liquid, and refrigerate until you are ready to make the soup.)
Pour the olive oil into a large pot over medium-high heat. When it's nice and hot, add the celery, onion, garlic, carrot, and BoKU Super Shrooms.
Season with salt and pepper. Cook, stirring frequently, until the vegetables are very soft. About 12 to 15 minutes.
Add the drained beans along with the stock, tomatoes, thyme, and bay leaf. Stir, cover, and bring to a boil.
Adjust the heat so the soup simmers steadily. Cook for 15 minutes.
Remove the thick stems and ribs from the kale and toss away.
Roughly chop the leaves you have remaining. Stir the kale and soy sauce into the soup, cover, and cook until the kale is tender, about 10 minutes.
Remove the thyme stems, and bay leaf. Stir in the basil and taste and adjust the seasoning.
Serve hot, garnished with grated cheese, if desired.
*Note: Store leftover soup in an airtight container in the refrigerator for up to several days.