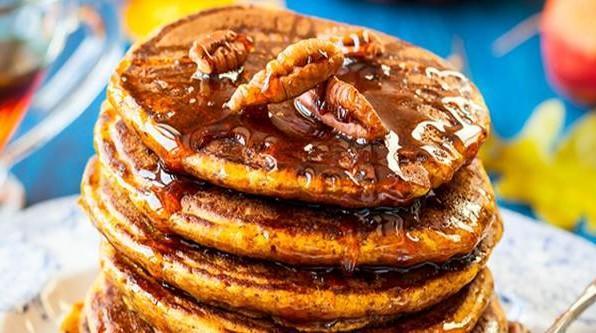 1/2 cup Almond Milk
1/4 cup Pumpkin Puree
1/2 tbsp Ground Flax
1 1/2 tbsp Water
1/2 tsp apple cider vinegar
1/2 tsp Vanilla Extract
1 tbsp Coconut Sugar
1/2 tsp Cinnamon or Pumpkin Pie Spice
1 1/2 tsp Baking Powder
1/4 tsp Baking Soda
1/4 tsp Sea Salt
1 scoop (About 3 Tablespoons) BõKU Super Protein
3/4 cup Rolled Oats
Put the ground flax and water in the blender and let it sit for a minute or two so it can thicken. Now add all the other ingredients and blend until smooth! Let the batter sit for several minutes.
Meanwhile, heat a nonstick griddle (or large nonstick skillet) coated with cooking spray over medium heat. Spoon 2 heaping tablespoons of batter per pancake on the griddle.
Turn pancakes over when tops are covered with bubbles and edges look cooked.
Serve warm topped with agave or maple syrup and a sprinkle of pecans.