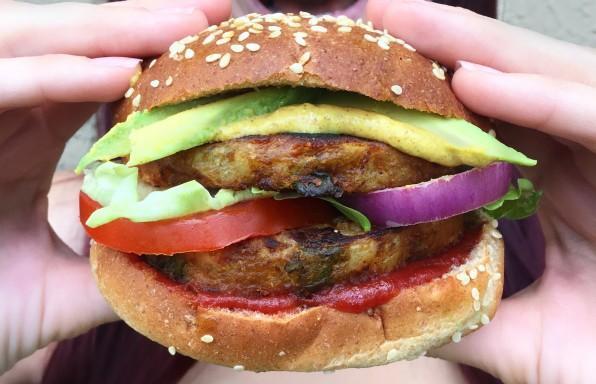 1/2 cup Quinoa
1 count Small Onion, finely chopped
6 count Oil Packed Sun-Dried Tomatoes, drained & finely chopped
1 1/2 cup Cooked Black Beans, or 1 15oz can black beans, rinsed and drained
2 count Cloves Garlic, minced (2 tsp)
2 tsp Dried Steak Seasoning
2 scoop BõKU Super Food (2 tablespoons)
8 count Whole Grain Hamburger Buns
Stir together quinoa and 1 ½ cups water in small saucepan, and season with salt, if desired. Bring to a boil. Cover, reduce heat to medium-low, and simmer 20 minutes, or until all liquid is absorbed. (This will give you 1½ cups cooked quinoa.)
Meanwhile, place onion and sun-dried tomatoes in medium nonstick skillet, and cook over medium heat. (The oil left on the tomatoes should be enough to sauté the onion.) Cook 3 to 4 minutes, or until onion has softened. Stir in ¾ cup black beans, garlic, steak seasoning, and 1½ cups water. Simmer 10 to 12 minutes, or until most of liquid has evaporated.
Transfer bean-onion mixture to food processor, add ¾ cup cooked quinoa, 2 tablespoons of Boku Super Food, and process until smooth. Transfer to bowl, and stir in remaining ¾ cup quinoa and remaining ¾ cup black beans. Season with salt and pepper, if desired, and let cool.
Preheat oven to 350°F, and generously coat baking sheet with cooking spray. Shape bean mixture into 8 patties (½ cup each), and place on prepared baking sheet. Bake 20 minutes, or until patties are crisp on top. Flip patties with spatula, and bake 10 minutes more, or until both sides are crisp and brown. Serve on buns with all of your favorite toppings! We love to use romaine lettuce, tomatoes and purple onion.