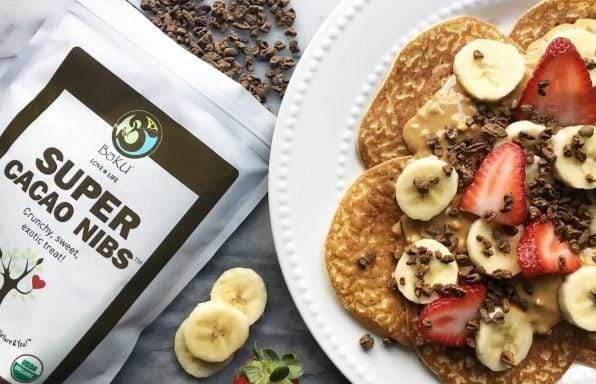 1 cup Flour (we used organic whole wheat flour)
3-5 tbsp BõKU Cacao Nibs (depending on taste)
1 tbsp Baking Powder
1/4 tsp Salt
1 cup Almond Milk Or Dairy-Free Milk Of Choice
2 tbsp Olive Oil or Melted Coconut Oil
2 tbsp Maple Syrup or Sugar of Choice
1 tsp Pure Vanilla Extract
In a medium bowl, whisk together all dry ingredients.
In a separate bowl mix together oil, milk, maple syrup and vanilla extract.
Next, pour your liquid mixture over the dry mixture and combine until only a few lumps remain.
Fold in 3-5 tablespoons of BõKU Cacao Nibs. Let sit for 5 minutes.
On a stovetop or electric skillet (350*F for electronic skillets), lightly spray cooking oil if necessary.
Scoop ¼ cup batter onto the hot skillet and cook for about 2-3 minutes or until small bubbles form, and flip. Cook the opposite side and cook until soft golden brown.
Repeat this process with the remaining batter, adjusting heat if necessary.
Enjoy with organic maple syrup, almond butter, sliced bananas and even more cacao nibs sprinkled on top!