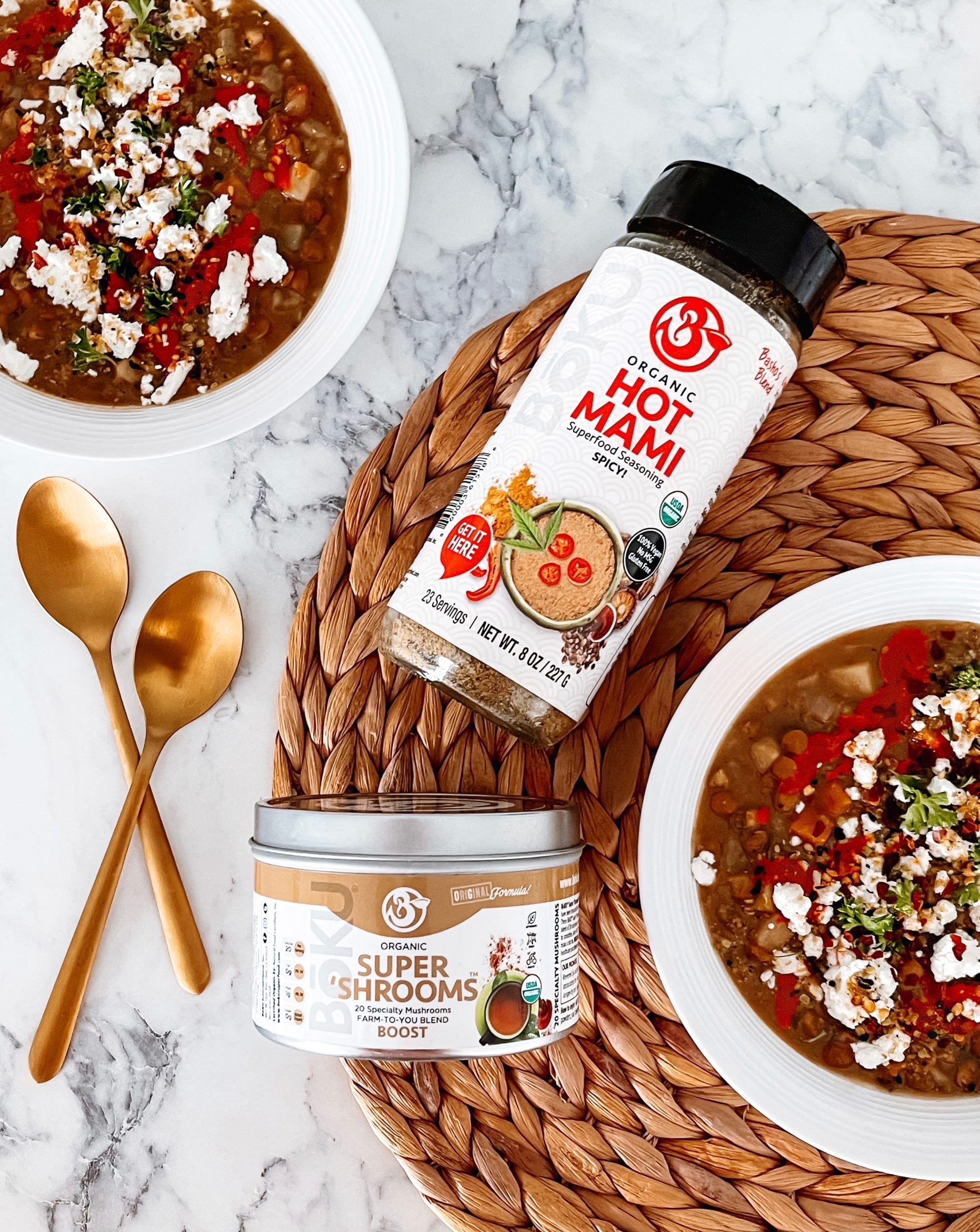 1 medium onion, chopped
3 cloves garlic, minced
2 medium carrots, peeled and chopped
2 celery ribs, chopped
1 can of crushed or diced tomatoes
2 cups dry green or brown lentils
7 cups vegetable broth
1 tbsp Boku Super Shrooms powder
1 tbsp Boku Umami or Hot Mami seasoning
1/2 tsp ground cumin
1/2 tsp ground coriander
1 tsp smoked paprika
1 tsp salt, or to taste
3 cups baby spinach, sliced into ribbons, or kale
1 lemon, juiced
Optional Toppings: vegan crumbly cheese, hot sauce, parsley, a sprinkle of Boku Umami
Heat the olive oil in a large pot over medium heat. Add the onions, garlic, carrots, and celery. Cook, stirring frequently for about 4-5 minutes.
Add the can of tomatoes (with liquid), lentils, vegetable broth, Boku Super Shrooms, Boku Umami, cumin, coriander, and smoked paprika. Stir to incorporate everything.
Bring to a boil, then lower heat to a simmer and cook for about 30 minutes, until the lentils are tender and the soup has thickened.
Stir in the spinach and lemon juice. It will only take a minute for the spinach to wilt. Season with salt to taste and top with vegan crumbly cheese, hot sauce, parsley, and a sprinkle of Boku Umami. Enjoy!