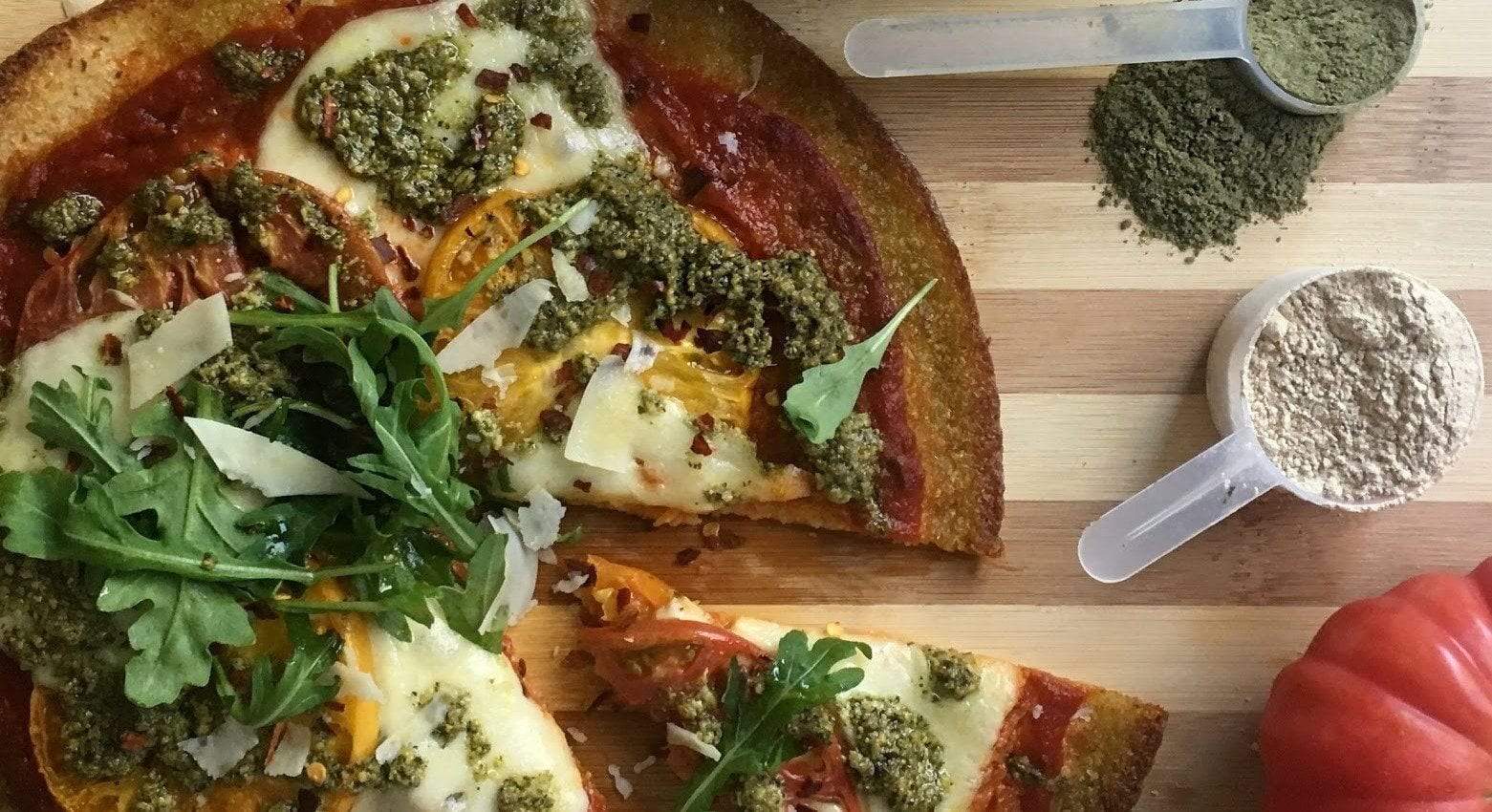 1 scoop Boku Super 'Shrooms
2 lbs frozen cauliflower florets, thawed
1 count egg. lightly beaten
1/2 cup soft goat cheese
2 tsp dried oregano
1 tsp dried basil
1/2 tsp sea salt
1 count large heirloom tomato, sliced
3 oz. fresh mozzarella
1 count organic store-bought pesto
1 count organic store-bought tomato sauce
1/2 scoop Boku Superfood
1 handful of arugula
parmesan cheese
Preheat the oven to 400ºF and line a baking sheet with parchment paper.
In a large food processor fitted with an "S" blade, pulse the cauliflower florets several times, until a rice-like consistency is achieved. Pour the cauliflower into the center of a thin dish towel, then twist it up and use your hands to firmly wring out the moisture. Quite a lot of liquid should be released, leaving you with a dry lump of cauliflower pulp.
Place the cauliflower pulp in a large mixing bowl and mix in the Boku Super Shrooms, egg, goat cheese, oregano, basil, and salt, stirring well to create a uniform mixture.
Transfer the cauliflower mixture to the baking sheet and use your hands to press the crust firmly into a large circular shape, about ¼ inch thick. Be sure to pack the cauliflower mixture together firmly and evenly, leaving no thin spots where the crust may crack.
Bake for 30 minutes, until the top is dry and golden, then carefully flip the crust over and bake for another 10 minutes.
Spread crust with tomato sauce then top with heirloom tomato slices and mozzarella. Bake for ten more min. or until cheese is nice and melted.
While pizza finishes baking add pesto to a small bowl and stir in Boku Superfood. Top finished pizza with arugula, pesto, and fresh parmesan.