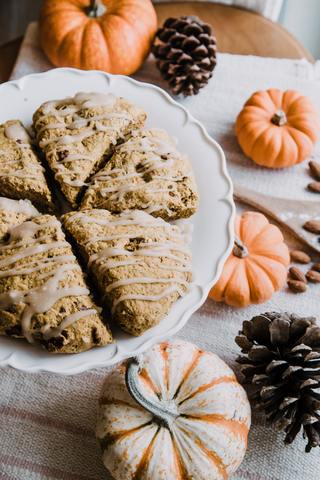 1.5 cup whole wheat flour

1/2 cup oats

1/2 cup Boku Super Protein powder

1/4 cup coconut sugar

1 1/2 tsp baking powder

1/2 tsp baking soda

1/2 tsp salt

1 tbsp pumpkin spice

2 tsp cinnamon

4 tbsp chilled coconut oil (it should be hard)

3/4 cups unsweetened vanilla almond milk

1/2 cup pureed pumpkin

1 tsp vanilla extract
Glaze Ingredients:
2/3 organic powdered sugar

2-3 tsp coconut milk

1/4 tsp pure vanilla extract

1/4 tsp pumpkin pie spice
Preheat oven to 375 F. Spray a round cake pan with nonstick spray.

Whisk the flour, oats, Boku Super Protein powder, sugar, baking powder, baking soda, and salt in a large bowl. Blend together the cold coconut oil into the mixture until it resembles coarse crumbs.

Mix the almond milk, pumpkin, and vanilla extract in a small bowl. Add to flour mixture, stirring until moistened.

Transfer the dough to the round cake pan and pat down until evenly filled. Brush the dough with a little more milk using a pastry brush, then sprinkle some more sugar.

Bake the scones for 15-20 minutes, or until a toothpick inserted in the center comes out clean. Let it cool in the pan for 5 minutes, then remove from the pan and let them cool completely on a wire rack. Cut into about 8 slices.

To make the glaze, whisk together all the ingredients until smooth. Add just 2 tsp of coconut milk initially, then add more if needed to reach a good consistency. Drizzle over scones once cooled.