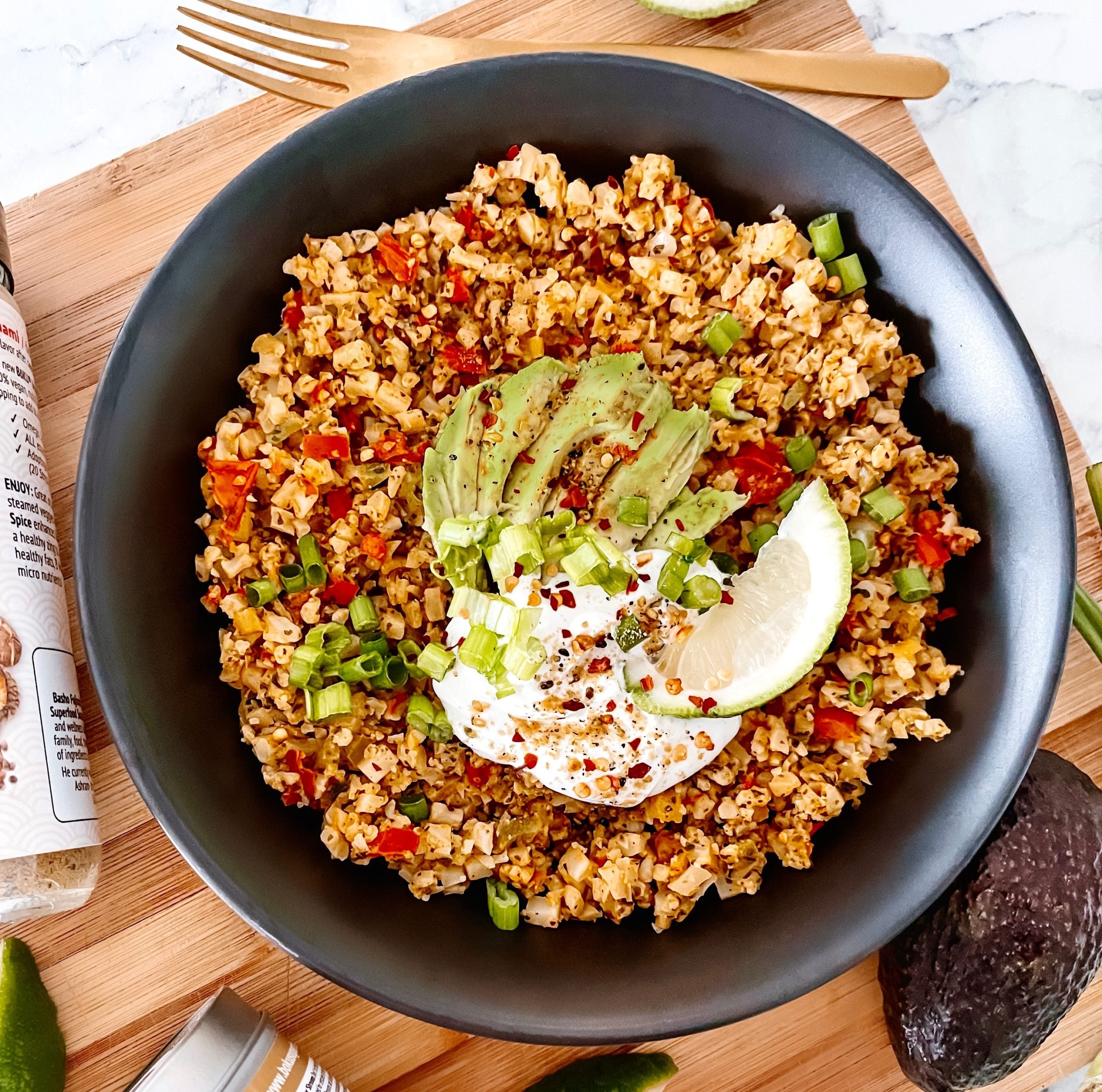 1 head cauliflower, riced
1.5 tbsp Boku Super Shrooms powder
1 tbsp Boku Hot Mami seasoning, plus more for topping
1 tbsp olive oil
1 medium white onion, finely diced
1 red pepper, finely diced
2 cloves garlic, minced
1 jalapeno, seeded and minced
3 tbsp tomato paste
1 tsp sea salt
1 tsp cumin
½ tsp paprika
3 tbsp fresh chopped cilantro
1 tbsp lime juice
Topping Suggestions: avocado slices, vegan sour cream, chopped green onion, more Boku Hot Mami
1) To rice the cauliflower, slice the florets from the head of the cauliflower. Fit a food processor with the s-blade. Place half the florets into the bowl of the food processor and pulse until riced, scraping down the sides once halfway through to catch any larger pieces. Scrape out the riced cauliflower and repeat with the remaining florets.
2) Heat a skillet over medium-high heat. Add the oil and heat until it simmers. Add the onion and sautée
until soft and translucent, stirring occasionally, 5-6 minutes.
3) Add the garlic, red pepper, and jalapeno and sautée until fragrant, 1-2 minutes.
Add the Boku Super Shrooms powder, Boku Hot Mami seasoning, tomato paste, salt, cumin, and paprika, and stir into the vegetables.
4) Add the cauliflower rice and stir continuously until all ingredients are incorporated. Continue sautéing, stirring occasionally, until the cauliflower releases its liquid and is dry and fluffy.
5) Remove the Mexican cauliflower rice from heat. Stir in the cilantro and lime juice. Serve immediately and add toppings of choice. Enjoy!