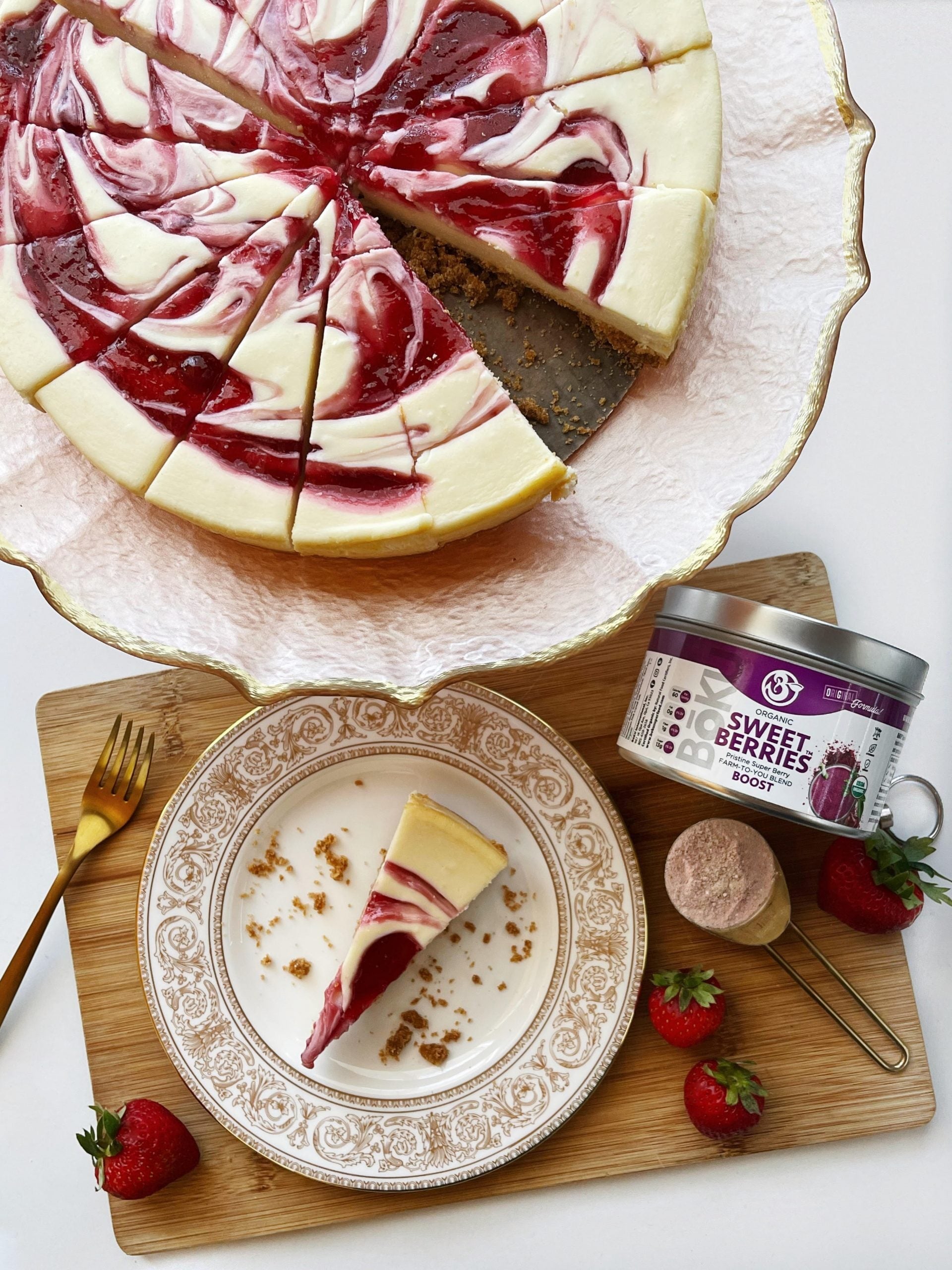 For the Crust
1 1/2 cups vegan graham cracker crumbs
5 tbsp melted coconut oil or vegan butter
1/4 cup organic granulated sugar
For the Filling
32 ounces (4 8-ounce packages) vegan cream cheese
(1) 13.5 ounce can coconut cream
1 1/4 cups organic granulated sugar
4 tbsp cornstarch
2 tsp pure vanilla extract
3 tbsp lemon juice
Strawberry Sauce
Preheat the oven to 350 degrees F. Wrap a 9-inch springform pan with 1-2 layers of aluminum foil, covering the bottom and the sides. Cut a circle of parchment paper for the bottom of the pan, and spray lightly with oil.
In a medium bowl, add the graham cracker crumbs, melted coconut oil, and sugar. Stir well to combine, then press down into the bottom of the prepared pan. Press down firmly and evenly, going up the sides a little. Set aside.
Add the sliced strawberries, sugar, and Boku Super Berries to a medium saucepan. Place over medium heat and cook for 10 to 13 minutes. Break the strawberries down with a wooden spoon while they cook to help speed up the process.
Remove from the saucepan and place in a blender or food processor. Pulse until the sauce is a smooth puree. Set aside and begin working on the cheesecake.
In the bowl of an electric mixer with the whisk attachment, or using a handheld mixer, beat the vegan cream cheese until smooth, about 1 minute.
Now add the rest of the filling ingredients and beat until smooth, scraping down the sides and bottom of the bowl as needed.
Once it's completely smooth, pour into prepared pan over the crust and spread evenly.
Pour the strawberry puree into a sandwich bag or piping bag and cut a small hole in one of the corners.
Place the hole of the sandwich bag barely in the cheesecake batter and begin piping a swirl with the strawberry sauce. Don't go too deep with the filling otherwise, you won't see it on top.
Add a few swirls dragging a skewer through the cheesecake. Adding too many swirls will create cracks in the top of your cheesecake when it's baked so keep it to a minimum.
Place in the oven and bake for 50 minutes. Do not open the oven door during this time. Turn off the heat, and let it sit in the oven for 10 more minutes. The cheesecake will be slightly jiggly, and not look very done in the middle. That is correct, it will firm up when it cools.
Remove from the oven, and let it cool for about 15 minutes at room temperature before moving to the refrigerator to cool for at least 4 hours, preferably overnight, before slicing and serving. Enjoy!