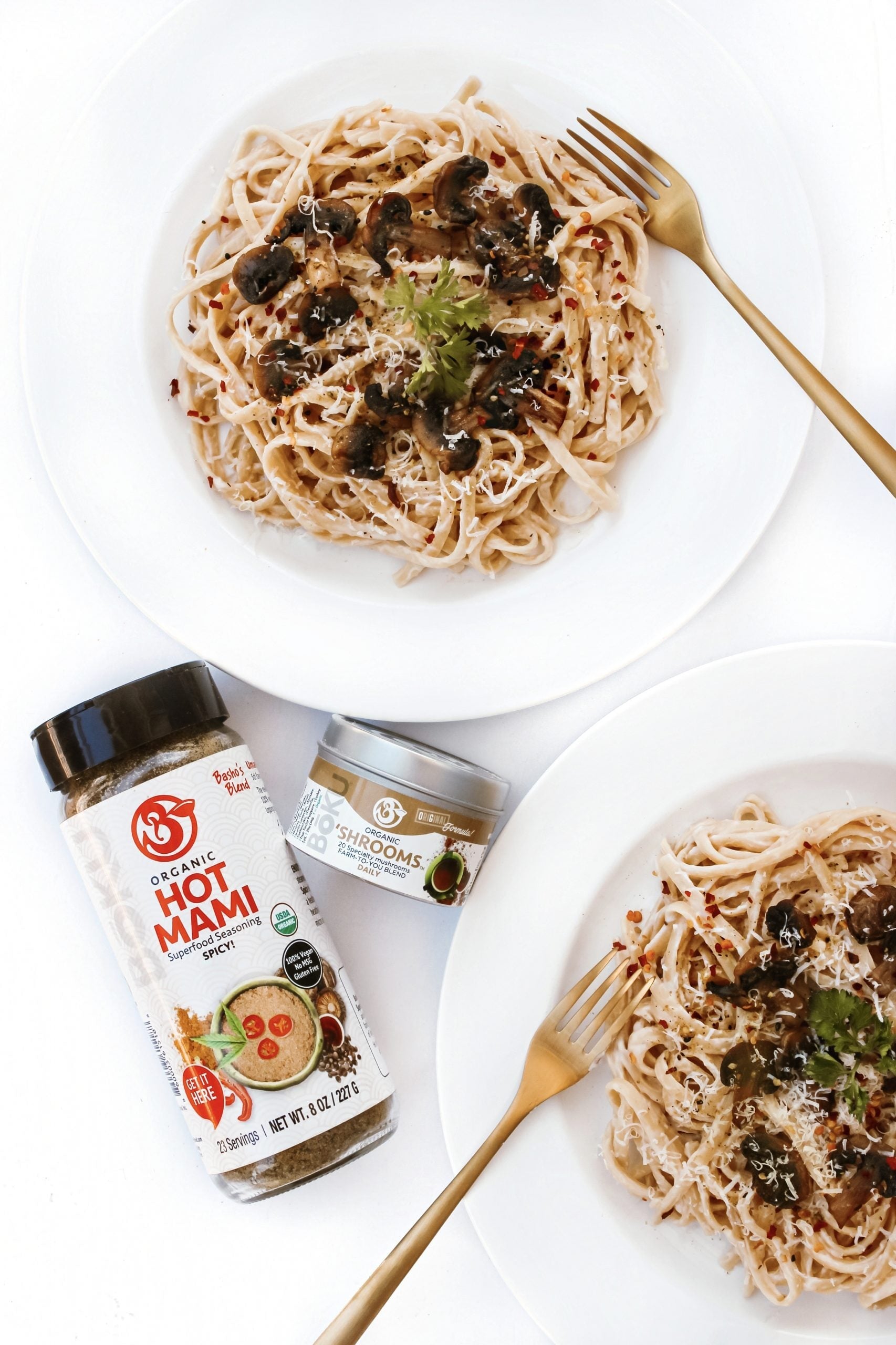 Cashew Cream Alfredo
1 cup raw cashews, soaked in room temp water for at least 2 hours
1 cup water
2 tbsp nutritional yeast
1 tbsp Boku Umami or Hot Mami Seasoning
1 tbsp Boku Super Shrooms
2 tsp lemon juice
½ tsp salt
¼ tsp pepper
Pasta
8 oz cooked linguine pasta (or other pasta of choice)
3 tbsp olive oil
3 cloves finely minced garlic
¼ cup minced shallots (or yellow onion)
16 oz crimini mushrooms, sliced
½ cup dry white wine (optional)
1 tsp salt
Soak cashews in room temperature water for at least 2 hours. Drain and rinse. Add cashews to blender with remaining cashew cream ingredients. Blend until smooth and creamy.
Bring a large pot of salted water to a boil. Meanwhile, preheat a large sauté pan to medium. Add olive oil, shallots, and garlic then cook for a few minutes, until softened. Transfer to a small bowl and set aside.
Slice mushrooms and increase pan heat to medium-high. Add mushrooms to pan and cook until most of the liquid is reduced – about 15 minutes. Stir often.
Boil pasta until al dente. Reserve about a cup of pasta water in case you need to loosen up the alfredo sauce.
When the liquid is mostly reduced from mushroom pan, deglaze with white wine. Add back in shallots and garlic, salt, and pepper. Cook for a few more minutes, taste and adjust seasoning as needed.
When pasta is finished cooking, add to the pan with mushrooms and coat with alfredo sauce. If you need to loosen up the sauce, stir in a bit of the hot reserved pasta water. Top with more Boku Umami and shredded vegan parmesan. Enjoy!