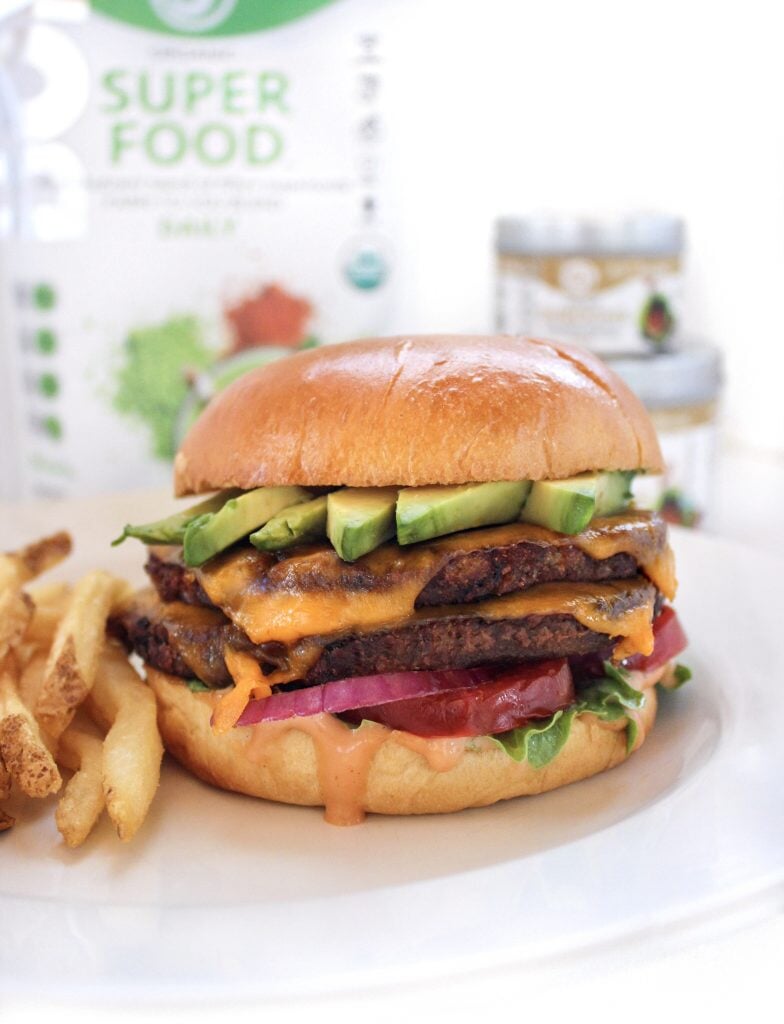 Vegan Super Black Bean Burgers:
6 of your favorite hamburger buns (we love brioche)
2 tbsp ground flaxseed + 3 tbsp water
2-14.5oz cans black beans, drained and rinsed
1 tbsp Boku Superfood powder
1 tsp Boku Super Shrooms powder
2 tsp Boku Umami Seasoning
1 cup Panko breadcrumbs
2 tsp onion powder
1 tsp garlic powder
2 tsp cumin
2 tsp chili powder
1 tsp smoked paprika
½ tsp kosher salt
½ tsp ground black pepper
2 tbsp sriracha
Vegan "Super Special Sauce":
1 cup vegan mayo (we used Vegenaise)
1/4 cup ketchup
1 tbsp mustard
2 tsp sweet relish
1/2 tsp Boku Super Shrooms
1/4 tsp apple cider vinegar
1/4 tsp garlic powder
1/4 tsp onion powder
1/8 tsp paprika
Place flax and water in a small bowl. Set aside to thicken.
Place beans in a large bowl. Mash with a potato masher or fork until most beans are broken up. Add breadcrumbs, Boku Superfood, Boku Super Shrooms, Boku Umami, onion powder, garlic powder, cumin, chili powder, smoked paprika, salt, pepper, sriracha, and flax mixture. Stir until well combined.
Form into 6 tightly-packed patties. Preheat a large pan greased with olive oil over medium heat.
Cook burgers for about 6 minutes per side, or until golden brown. Add vegan cheese to patties during the last couple of minutes to melt.
To make the sauce, in a medium-sized bowl combine all ingredients and stir until fully combined. If you would like to thin out the sauce a bit, add water 1 tsp at a time until it reaches your desired consistency.
Serve burgers on toasted buns spread with sauce and desired toppings. Enjoy!
Suggested Toppings:
lettuce
tomato
avocado
pickles
sliced or grilled onions
vegan sliced meltable cheese