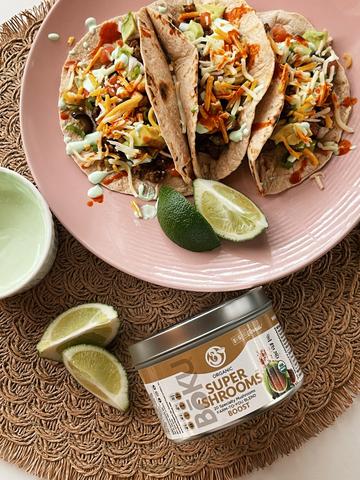 1 pound of organic ground meat, vegetarian meat substitute, or crumbled tofu
1 tbsp Boku Super Shrooms
1 tsp Boku Superfood
8 soft taco tortillas
1/2 cup sour cream
1 lime
3/4 cup water
1 tbsp chili powder
1 tsp ground cumin
3/4 tsp salt
1/2 tsp dried oregano
1/2 tsp garlic powder
1/4 tsp ground black pepper
Taco toppings: shredded cheese, chopped red onions, salsa, hot sauce, shredded lettuce, olives, diced avocado
Add your meat of choice to a large skillet over medium-high heat. Break the meat apart with a wooden spoon. Cook until the meat is cooked through, about 6-8 minutes, stirring occasionally.
Reduce the heat to medium. Add the Boku Super Shrooms, chili powder, cumin, salt, oregano, garlic powder, and pepper to the meat. Stir well. Add the water and stir to combine. Cook, stirring occasionally, for 7-8 minutes, until most of the liquid evaporates but the meat mixture is still a little saucy. Remove from the heat.
Make the lime crema by whisking together the sour cream, Boku Superfood powder, and the juice of one lime in a small bowl. If still too thick to drizzle over the tacos, add a little more lime juice or water.
Warm the taco shells according to their package directions. Fill the taco shells with 3 heaping tablespoons of taco meat. Top with desired taco toppings and drizzle with the lime crema. Enjoy!